Trump Campaign Did Not Alert Biden The President Had Been Exposed To COVID-19 Ahead Of Debate
KEY POINTS
Joe Biden had to learn of his exposure to COVID-19 through the news, as the Trump campaign neglected to inform him of the positive test results
Donald Trump, Melania Trump, Hope Hicks and Ronna McDaniel have tested positive. The Bidens and Kamala Harris tested negative Friday
It's a hard break for Trump so close to the election as he had tried to pivot the narrative away from his handling of the pandemic
The Trump campaign neglected to inform Democratic presidential nominee Joe Biden the president had been exposed to coronavirus ahead of Tuesday night's debate, leaving Biden to learn of President Donald Trump's positive COVID-19 test from news reports.
The Hill on Friday cited two Biden campaign staffers who say they were not told of Trump's positive COVID-19 test. Biden has since tested negative.
Trump announced his positive test in a Tweet early Friday. Trump aide Hope Hicks, first lady Melania Trump and Republican National Committee Chairwoman Ronna McDaniel also tested positive. Mike Pence and his wife, Karen, have both tested negative. Hicks and the Trumps are already reporting symptoms, the White House said.
Despite the dire risks the virus presents, the Biden campaign was not told about the results, the Hill reported. The campaign discovered the exposure from a news report two days after the candidates debated in Cleveland. The Bidens and vice presidential running mate Kamala Harris tested negative Friday.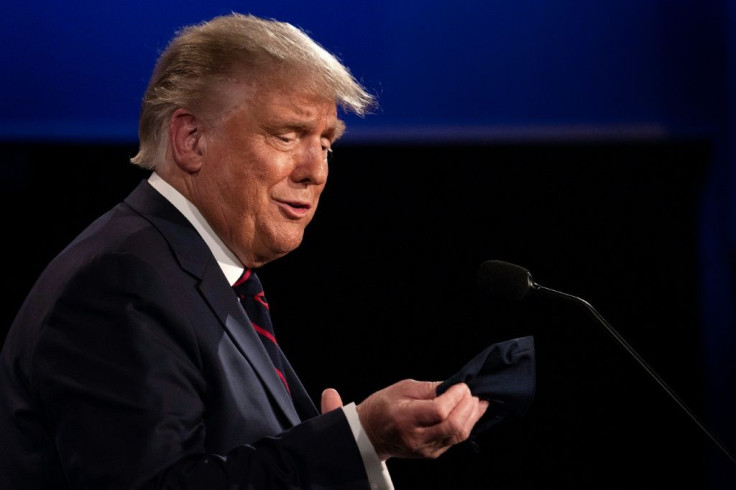 Biden's campaign was careful to maintain distance during the debate, eschewing the traditional handshake and using separate hallways and rooms before and after. Donald Trump and his campaign staff appeared without masks and went so far as to refuse them when offered.
It's unclear what effect Trump's diagnosis will have on the remaining weeks of the campaign. The tweet announcing his test results said he would be going into quarantine, and those considering worst-case scenarios have been reexamining the 25th Amendment. Trump's campaign announced he would postpone in-person events, eliminating a staple of Trump's campaign strategy.
COVID-19 symptom expression, however, is highly variable. In some sample populations only 50% of those infected suffered any symptoms. Trump's age, 74, and weight put him in a higher risk category than most, but it's entirely possible he will experience only mild symptoms and recover quickly.
Still, it's not a great look going into the final lap of reelection, given how he has downplayed the severity of the pandemic that has killed more than 208,000 Americans in little more than six month. If Tuesday's debate was any indication, Trump had hoped to shift the narrative away from his handling of the pandemic. That will be extremely difficult if the news is a slow roll of people close to him becoming infected.
© Copyright IBTimes 2023. All rights reserved.