Trump Conspiracy Theory: Republican Congressman Asks President To Stop Promoting Claims Against MSNBC Host
KEY POINTS
Rep. Adam Kinzinger asked President Donald Trump to stop spreading the conspiracy theory around the death of a Joe Scarborough intern in 2001
Lori Klausutis was working as an intern for then Rep. Joe Scarborough when she died after fainting from an undiagnosed heart condition and hit her head during the fall
Conspiracy theories have pointed to Klausutis' seemingly perfect health and "troubled history" of the assigned medical examiner as proof there's more to her death
A Republican congressman has asked President Trump to stop promoting a conspiracy theory about the death of an intern who worked for Joe Scarborough. Rep. Adam Kinzinger, R-Ill., took to Twitter to voice his frustration with Trump's accusation, which was mixed into the weekend Twitter-storm aimed at Joe Biden, Barack Obama, and North Carolina officials, among others.
Trump's latest attack on Scarborough, a longtime MSNBC host, came from an article by True Pundit, a conservative outlet notorious for spreading conspiracy theories about the death of Lori Klausutis, who died on July 20, 2001. This prompted Kinzinger to respond on Sunday, saying these continued accusations are "creating paranoia" and it would "destroy us."
Klausutis died while she was working for Scarborough, who at the time was serving his fourth term as a Florida member of the U.S. House of Representatives. Dr. Michael Berkland, the assigned medical examiner, said Klausutis passed out from an undiagnosed heart condition while working at Scarborough's district office and struck her head in the fall.
Klausutis' death was ultimately ruled accidental after a short investigation. However, conspiracy theories have persisted.
The True Pundit article claims the injury "does not suggest an accidental death." It also points to Klausutis being a "healthy woman" that "ran marathons" and that Dr. Berkland had a "troubled history" while working in Missouri.
"It's really about Donald Trump attacking a grieving Florida Family," Scarborough said on Monday's edition of "Morning Joe."
Trump's latest accusation is the latest in a recent flurry aimed at Scarborough, previously tweeting out "ColdCaseJoe" and calls for MSNBC's parent company Comcast to investigate the case.
This prompted a response from Scarborough's wife and "Morning Joe" co-host Mika Brzezinski.
"Donald, you're a sick person," Brzezinski said during Wednesday's show. "You're really a cruel, sick, disgusting person. And you can keep tweeting about Joe, but you're just hurting other people, and of course you're just hurting yourself."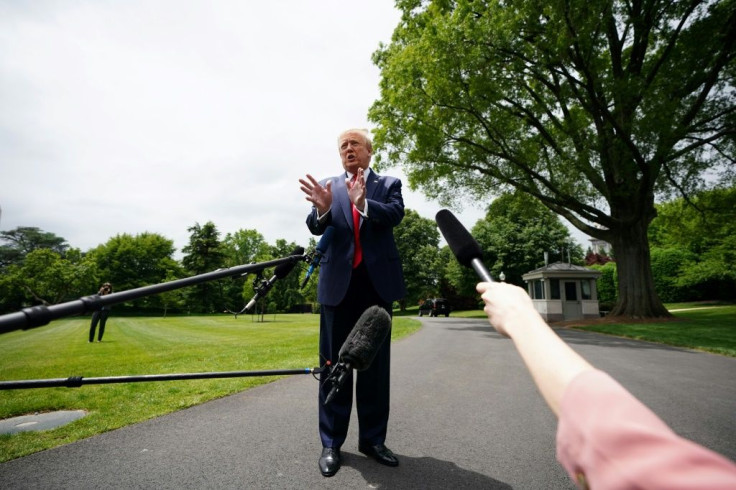 © Copyright IBTimes 2023. All rights reserved.