Trump Cost Taxpayers Tens Of Millions Visiting His Own Properties In 2017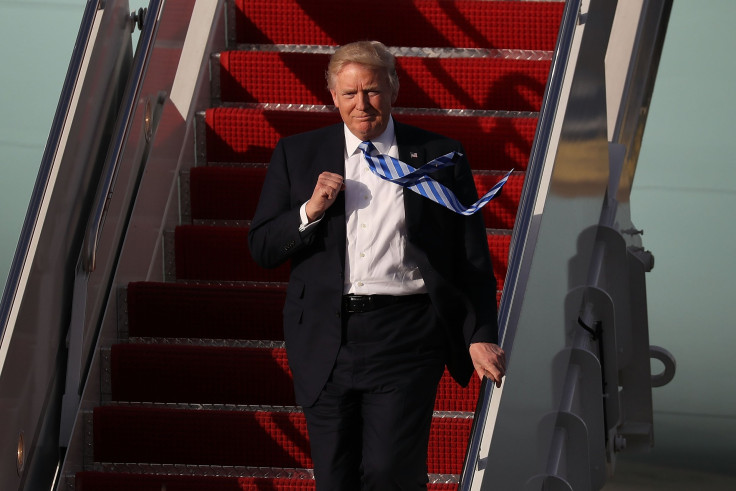 Just after signing the Republican tax cut bill on Friday, President Donald Trump returned to a familiar weekend getaway: his Mar-a-Lago resort in Palm Beach, Florida. That night at dinner, he told friends, "You all just got a lot richer," according to CBS News.
Despite saying in 2016 that if elected president, "I'm not going to have time to go play golf," Trump has often sought refuge at several properties he owns. According to NBC News, he has visited one of his properties, most of which are golf resorts, on 109 days this year — nearly one-third of his presidency so far.
And these visits come with a cost. Trump has used tens of millions of taxpayer dollars to subsidize numerous trips to his properties in 2017. The big price tag covers travel on Air Force One, cargo planes and expenses for White House aides and the fleet of security that accompany him.
One trip to the so-called "Winter White House" may cost taxpayers $3.6 million or more, although exact estimates are difficult to make. An estimate by the website trumpgolfcount.com puts the total cost to taxpayers this year at more than $42 million. Local governments have to pitch in, too. The Palm Beach County Sheriff's Office estimates that it costs roughly $60,000 per day in overtime pay for officers when Trump is at Mar-a-Lago.
Mar-a-Lago is a club accessible only to the wealthy; it costs $200,000 to join and $14,000 per year in membership fees. Trump's statement to friends on Friday describes one of the biggest effects of the tax legislation; the bill primarily advantages those at the top of the income scale while many middle- and low-income Americans will see their tax bills increase by 2027.
Per NBC, Trump has spent 37 days at Mar-a-Lago since becoming president. The only property Trump has visited more often is his Bedminster golf resort, where he's spent 39 days.
In 2012, Trump criticized then-President Barack Obama for "costing taxpayers millions of dollars" for vacations. In total, Trump tweeted criticism at Barack Obama for golfing 27 times. But Trump is far outpacing Obama in terms of travel costs to taxpayers, and it's "a near certainty" that this will continue, according to Snopes.
At his resorts, Trump has been known to golf with other celebrities and cross paths with wealthy conservatives who are members of his clubs. The president has claimed that the tax bill does not benefit the richest Americans, like many Mar-a-Lago members, saying that he has many rich friends who are "not so happy" with him over the law. But nonpartisan tax analysts have found that the top 20 percent — and, specifically, the top 0.1 percent — will benefit most from the legislation, the first major bill Trump has signed into law since becoming president in January.
Trump's critics were vocal on Twitter on Sunday, attacking the tax bill and the president's recent comments at Mar-a-Lago.
© Copyright IBTimes 2023. All rights reserved.
FOLLOW MORE IBT NEWS ON THE BELOW CHANNELS