Trump Doesn't Fear Impeachment Because He Is Doing A 'Great Job'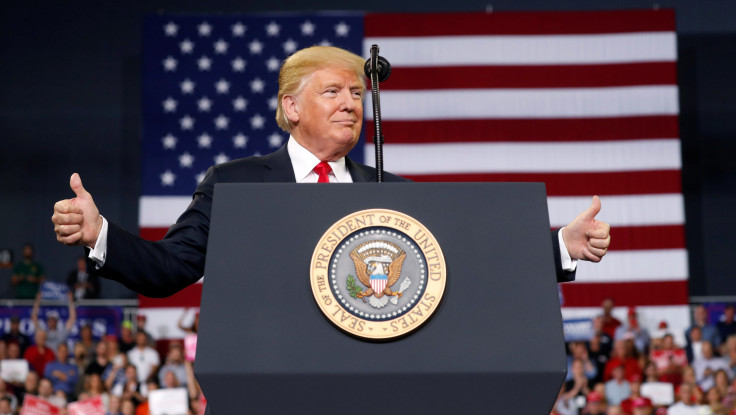 President Donald Trump, in an interview with Bloomberg News on Thursday, said Democrats should not try to impeach him as he was doing a "great job" as the POTUS, citing the country's strong economy, his performance on foreign policy and the danger of setting a precedent which will make it easy to remove future presidents.
"I don't think they can impeach somebody that's doing a great job," Trump said in the interview conducted by Bloomberg News Editor-in-Chief John Micklethwait and White House reporters Margaret Talev and Jennifer Jacobs. "You look at the economy, you look at jobs, you look at foreign, what's going on with other countries. You look at trade deals. I'm doing a great job."
Many Republicans, including Trump's own advisors, consider the November midterm as a decisive election which could lead to the impeachment of the president if Democrats manage to nab a majority. There were reports of Trump and his advisors thinking about adding new veteran lawyers, like defense attorney Abbe Lowell, to his personal legal team which has dwindled in size over the time frame of his presidency. The advisors wanted better lawyers in case of an impeachment after the November midterm election.
Not many Democratic leaders have talked about impeaching Trump, though a few candidates and outside groups have used the idea as an aid to boost their turnout in elections.
Trump was criticized by many for not taking adequate measures against a scenario where he would be impeached. Officials who were close to the president responded Trump was more focused on endorsing Republican candidates so that they can ensure the win and the majority, rather than on what to do in case of a loss.
But on the Thursday interview, Trump told Bloomberg News future presidents after him would be in danger of impeachment when the opposition gains majority of Congress if it happens to him as it would set a precedent.
"So you get elected as a Republican or a Democrat and the opposite party gets put into the House. That would mean, oh, let's impeach him. Can't do it," Trump said. "If you look at the definition of impeachment, that's a high bar and that would take a long time to fight that if you're doing a good job. And I'm doing a great job."
In order to impeach Trump, the Democrats would need a House majority, which would require them to win 23 seats in the upcoming elections. Whereas in the Senate, they need to win two more seats while defending 26.
But even with a majority in the House, Democrats will need a two-thirds majority in the Senate to impeach Trump. This means Republicans would have to vote against their president.
In the same interview, Trump said he was considering a capital gain tax break through a regulation that would link gains to inflation, and slash tax bills for investors when selling assets (stock or real estate).
A capital gain occurs when an investor sells assets for more than what he or she spent to acquire it. The move by Trump was criticized by many as they think it had an unfair advantage to investment income that would benefit top earners more.
"There are a lot of people that love it and some people that don't," Trump said. "But I'm thinking about it very strongly."
Trump also threatened to pull out of the World Trade Organization (WTO) if the United States wasn't treated better.
"If they don't shape up, I would withdraw from the WTO," Trump said adding that the agreement with WTO was "the single worst trade deal ever made."
In the Bloomberg interview, Trump commented on how the U.S. was a much stronger country than China when it came to the trade dispute, and said the Asian nation won't outlast U.S. in their trade dispute.
"We are a much stronger country," Trump said in the interview. "Nobody's waiting us out. Our country is stronger than it's ever been financially."
If U.S. were to withdraw from the WTO and the trade war with China continued to grow, it would have a significant impact — much more than now — on the global economy.
He also talked about how the current scenario with Google, Facebook, and Amazon were "antitrust situations. … I won't comment on the breaking up, of whether it's that or Amazon or Facebook. As you know, many people think it is a very antitrust situation, the three of them. But I just, I won't comment on that."
On Tuesday, Trump claimed Google's news search favored liberal over conservative outlets and the next day he tweeted a video that apparently showed how the tech giant promoted former President Barack Obama's annual State of the Union address on its homepage, but not his own.
© Copyright IBTimes 2023. All rights reserved.