Trump-Loving Breitbart News Is Having A Great Election Year Despite Massive Meltdown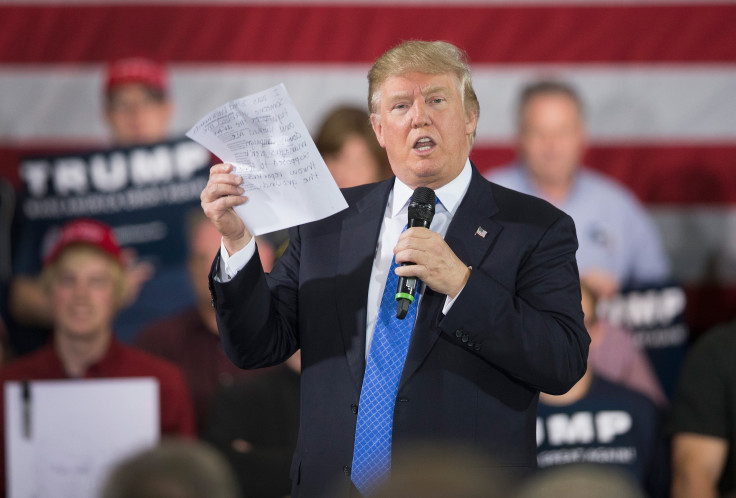 If you want an idea of what news sites will look like after President Donald Trump takes power and crushes press freedom in America, head on over to the Breitbart News Network. There, you'll see headlines like "GOP Candidates Jump on Bandwagon to Criticize Trump" and "Donald Trump Disrupters Are PC Enforcers, Not Protesters."
Each of these is complete with hagiographic descriptions of the mogul as a fearless and noble leader. When White House hopeful Trump calls journalists "disgusting," but concedes that "some are nice," it's not a total mystery which nice ones he's talking about.
In fact, despite a wave of bad press and recent resignations at Breitbart News, the right-wing site has remained the most conspicuously pro-Trump outlet in the small but noisy market of conservative media.
And why not? It's done wonders for Breitbart's traffic: Since Trump declared his candidacy last June, the site more than doubled its number of monthly unique visitors in 2015, going from about 7.5 million in February to around 17 million in December, according to U.S. desktop and mobile data from comScore.
How big was the Trump bump? In the first month of his presence in the race, Breitbart's traffic increased by 5 million visits. The beginning of this year hasn't been quite as sweet, with the January figure dropping to 14 million, and the Feburary number to 12.7 million, but the site is still thriving.
Breitbart did not respond to requests to comment for this article.
While Breitbart's traffic doubled, TheBlaze, the website run by anti-Trump chieftain Glenn Beck, saw its numbers slip from a high of 18 million in July down to 13 million in December. The National Review, which in January rolled out a special issue "Against Trump," hums along between 1 million and 2 million visits a month, with a noticeable bump in January around the time it gave the anti-Trump screed its debut.
In other words, Breitbart — founded by Andrew Breitbart, a journalist who died at age 43 in 2012 — saw an opening in the market for an unapologetically pro-Trump news outlet. For a site that used to pride itself on being a truly "independent" source of news, free from the corruption of the liberal media and the pressure of effete Republican elites, Breitbart took up the role of Trump's Pravda with considerable speed.
"Breitbart News is no longer a journalistic enterprise, but instead, in my opinion, something resembling an unaffiliated media Super PAC for the Trump campaign," the site's onetime national security reporter, Jordan Schachtel, recently told BuzzFeed.
"First and foremost, I didn't sign up to work for Trump's de facto super PAC," said Kurt Bardella, Breitbart's former communications man. "Those close to me know that for weeks, I have been considering ending my relationship with Breitbart because of how uncomfortable its support of Trump's presidential campaign made me."
The feedback loop results in articles with headlines such as "Donald Trump Praises Breitbart's Washington Political Editor Matthew Boyle: 'Very Good Reporter'" — and, indeed, Breitbart's Boyle gets "exclusives" from Trump on a regular basis in return for his loyal service.
But the sweetheart deal finally backfired this month: After eyewitnesses said, and video later appeared to confirm, they saw Trump's campaign manager Corey Lewandowski manhandling then-Breitbart reporter Michelle Fields, the site essentially whitewashed the incident and hung Fields out to dry.
Fields soon resigned from Breitbart News over the site's handling of the alleged battery, as did three other staffers. "I can't stand with an organization that won't stand by me," she tweeted March 14. Florida police charged Lewandowski with simple battery this week.
Another resignee was even more blunt: Former editor-at-large Ben Shapiro said his ex-employer covered for Trump at every turn. "Breitbart News not only stood by and did nothing outside of tepidly asking for an apology, they then attempted to abandon Michelle by silencing staff from tweeting or talking about the issue," he told BuzzFeed.
Now that Fields is gone, the site apparently has no reason not to run headlines like "Report: Secret Service Says Michelle Fields Touched Trump Before Lewandowski Intervened."
In particular, Boyle has been on the warpath: "Text messages between myself and Corey Lewandowski, Donald Trump's campaign manager, prove that an article in the Daily Beast that alleged Lewandowski admitted to me he grabbed Michelle Fields' arm at a Trump press conference is entirely inaccurate and untrue," he wrote in an article following the Fields fallout.
What's more, BuzzFeed has published a report, based on several anonymous sources at Breitbart, claiming Trump literally bought off the site.
"We have no financial relationship with Donald Trump as an investor, advertiser or in any other capacity at this time — nor have we ever. The insinuation that we do — or did — is a lie," Breitbart News Executive Chairman Steve Bannon said in a statement.
In defending Breitbart's honor, Bannon insisted that Trump is the one candidate who hasn't paid the site a cent.
"In fact, Mr. Trump's presidential campaign hasn't — unlike other campaigns — bought digital advertising on our site," he said.
Of course, with Breitbart articles such as "The 10 Most Important Reasons Trump Would Make A Great President," who needs advertising?
© Copyright IBTimes 2023. All rights reserved.
FOLLOW MORE IBT NEWS ON THE BELOW CHANNELS