Trump Muslim Ban: Democrats Call For Demonstration At Supreme Court To Protest 'Mean-Spirited,' 'Un-American' Order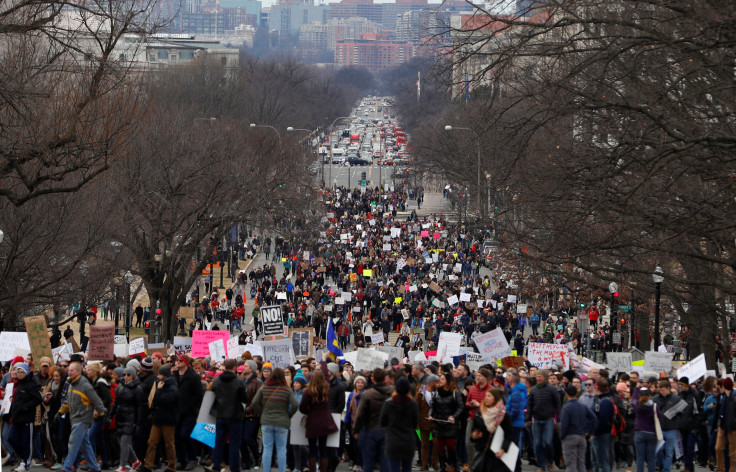 Congressional Democrats on Sunday called for a demonstration on the steps of the Supreme Court to protest President Donald Trump's immigration order, calling for nationwide enforcement of judicial orders barring its immediate implementation.
Trump issued an executive order Friday barring indefinitely immigration from Syria and for at least 90 days from Iran, Iraq, Libya, Somalia, Sudan and Yemen. It also suspended the U.S. refugee program for at least 120 days.
"I support the efforts of the ACLU [American Civil Liberties Union] and others to challenge this order on Constitutional grounds, and call on the Department of Homeland Security and U.S. Customs and Border Protection to respect the district court's nationwide injunction prohibiting the U.S. government from removing lawful permanent residents and nonimmigrants who are returning home to the United States," House Minority Leader Nancy Pelosi, D-Calif., said in a statement.
Thousands protested Sunday at the White House and Capitol in Washington as well as in Boston's Copley Square ad Battery Park in Manhattan in addition to airports in Atlanta, Dallas, Los Angeles and Washington.
Pelosi sent a "Dear Colleague" letter, inviting them to a press event on the steps of the Supreme Court at 6 p.m. Monday to demand the order be withdrawn and hold a candlelight vigil, flanked by refugees.
"We are witnessing an historic injustice unfold, and we must keep the pressure on," Pelosi wrote.
She added: "As Members of Congress, we take a solemn oath to support and defend the Constitution of the United States. Democrats intend to honor that oath by fighting the unconstitutional injustice of the President's Muslim ban."
Senate Minority Leader Chuck Schumer, D-N.Y., promised to introduce legislation to overturn the executive order, calling it "mean-spirited and un-American." House Democrats are expected to take similar legislative action.
Schumer choked up during a Sunday press conference announcing the legislation.
Schumer also said Secretary of State-designate Rex Tillerson would be asked where he stands on the issue before his nomination can be approved.
Whether such legislation goes anywhere is an open question. Senate Majority Leader Mitch McConnell, R-Ky., said Sunday he thinks the courts should handle the issue in an appearance on ABC's "This Week" although he did caution the administration against imposing any kind of religious test.
House Speaker Paul Ryan, R-Wis., endorsed the executive order Friday.
However, Schumer noted several Republican lawmakers have broken ranks and denounced Trump's order.
Though the administration has denied the order is anti-Muslim, former New York Mayor Rudi Giuliani told "Fox New Sunday" the president had asked him how to construct the a Muslim ban so that it would pass constitutional muster.
"And what we did was, we focused on — instead of religion, danger," Giuliani said. "The areas of the world that create danger for us. Which is a factual basis, not a religious basis. Perfectly legal, perfectly sensible. And that's what the ban is based on."
© Copyright IBTimes 2023. All rights reserved.