Trump 'Not At All Concerned' About Getting Coronavirus At Campaign Rallies: I'm 'Very Far Away'
KEY POINTS
The president said he is not concerned about contracting COVID-19 at his Sunday indoor rally in Nevada
Trump held a rally indoors despite Nevada's coronavirus restrictions that limits gatherings to 50 people
The Trump campaign estimated that at least 5,000 supporters were present during the event
President Donald Trump said he is not afraid of getting the coronavirus despite holding a mass indoor rally in Nevada on Sunday that violated the state ordinances forbidding gatherings of more than 50 people.
In an exclusive interview with the Las Vegas Review-Journal, the president said he was not concerned about contracting the coronavirus from speaking at the indoor rally because he was "very far away" from the crowd.
Trump also revealed that he did not think he was subject to Nevada Gov. Steve Sisolak's COVID-19 rules when he hosted a campaign event that saw thousands of supporters packed inside a warehouse in Henderson at the Xtreme Manufacturing, which is owned by Trump ally Don Ahern.
The Trump campaign initially planned to hold an outdoor rally Sunday at the Cirrus Aviation near McCarran International Airport and a Saturday rally in a private hangar in Reno. Many in those crowds did not wear masks and failed to properly social distance.
Airport authorities of the Reno-Tahoe Airport refused to host the rally, saying it would violate coronavirus rules and their lease agreement. Meanwhile, officials from the McCarran International Airport said they did not receive notification from the Trump campaign or Cirrus Aviation about holding a rally.
Henderson authorities warned the event organizer that they must obey the state's coronavirus ordiances, which include limiting a gathering to 50 people, wearing face masks, and social distancing, as reported by NBC News.
The Trump campaign said attendees were given and encouraged to wear face coverings. They were also subjected to temperature checks upon entering the event. However, many supporters who attended the event did not wear masks. The president's team said at least 5,000 people were present at the rally, in addition to the crowd assembled outside.
Trump promised his supporters that they would not be penalized for attending the 65-minute rally despite ignoring social-distancing rules.
"If the governor comes after you, which he shouldn't be doing, I'll be with you all the way. I'll be with you all the way. Don't worry about a thing," Trump said.
Governor Sisolak tweeted a statement earlier Sunday where he called Trump's decision to hold the rally in the warehouse "reckless and selfish." He also criticized the president for flouting the state's restrictions.
"This is an insult to every Nevadan who has followed the directives, made sacrifices, and put their neighbors before themselves," Sisolak said of the rally. "As usual, he doesn't believe the rules apply to him."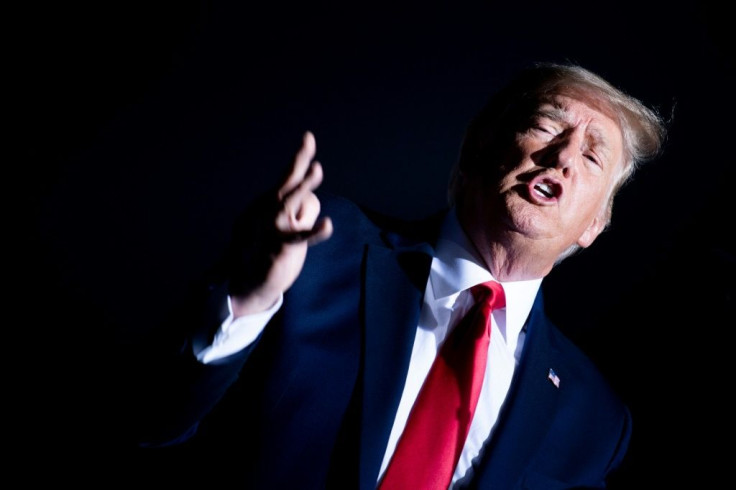 © Copyright IBTimes 2023. All rights reserved.