Trump Reveals How Many Times He Takes A Coronavirus Test, Contradicts Press Secretary
KEY POINTS
Press Secretary Kayleigh McEnany again boasts Trump is the "most tested man in America"
She asserts Trump is tested for the COVID-19 virus multiple times a day
Trump later says he can't remember a day when he was tested more than twice for the virus
President Donald Trump refuted a claim by his Press Secretary Kayleigh McEnany that he is tested multiple times a day for the coronavirus that causes COVID-19. Instead, Trump said he can't remember a single day when he was tested more than once.
Asked by a reporter why he's tested more than once a day, Trump replied, "I don't know about more than one. I do probably on average a test every two days, three days, and I don't know of any time I've taken two in one day, but I could see that happening."
A few hours before Trump made these statements, McEnany bragged to reporters that Trump doesn't risk spreading the virus to others because he's tested so often.
"As I've made clear from this podium, the president is the most tested man in America," said McEnany. "He's tested more than anyone, multiple times a day, and we believe that he's acting appropriately."
Pressed for more information about Trump's testing protocol, McEnany demurred, only saying Trump is tested often. "Sometimes it is more than one time a day," according to McEnany, adding to the confusion.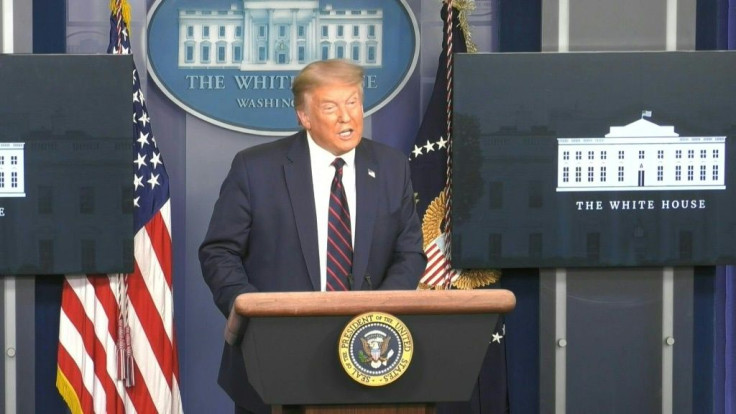 The latest contradictrion between Trump and McEnany took place at the White House on Tuesday after the first meeting of Trump's moribund coronavirus task force since early April.
Trump abruptly called off the daily press briefings after falsely claiming disinfectant injected into the human body can quickly kill the COVID-19 virus. Trump later suggested an infrared light inserted into the human body might have the same result.
The White House has always admitted Trump receives regular coronavirus tests. However, it seems no one knows how often he is tested.
There's also the issue about the equipment used to test Trump for the presence of SARS-CoV-2 (severe acute respiratory syndrome coronavirus 2), the virus that causes COVID-19.
The White House is still using the Abbott "ID NOW COVID-19" test, which Abbott Laboratories in April admitted can return false negative results. This flaw forced the U.S. Food and Drug Administration on May 14 to issue an alert saying there is early data suggesting Abbott's rapid coronavirus diagnostic test for COVID-19 may be delivering inaccurate results.
The FDA based its recommendation on a study by New York University showing the Abbott test missed more than 48% of positive cases. The FDA singled out the point-of-care Abbott ID NOW test, which is used to screen White House staff, as returning false negative results.
Despite the FDA warning, the federal government continues to distribute thousands of Abbott's test equipment each week throughout the country.
Trump has said one reason he doesn't regularly wear a mask is "everyone's tested" before they see him.
© Copyright IBTimes 2023. All rights reserved.
FOLLOW MORE IBT NEWS ON THE BELOW CHANNELS