Trump Turkey Pardon 2019: President Mocks Schiff, Talks To Birds About 'Subpoena'
This year's annual "Thanksgiving turkey pardon," or the "The National Thanksgiving Turkey Presentation" by its official name, saw president Donald Trump on Tuesday spare two male turkeys from North Carolina to live and cackle another day.
Trump granted clemency to a male turkey (or tom) named "Butter" and another male named "Bread" during ceremonies at the White House's Rose Garden. Bread is a 45 pound (20 kg) turkey with a height of 32 inches, while Butter is a 47 pound (21 kg) fowl 31 inches tall. But, tradition means both Bread and Butter were spared and will now live out the rest of their days at a Virginia Tech facility.
Trump's pardoning the turkeys continues a tradition first established by the late president George H.W. Bush in 1989. Bush is the first president to make sparing turkeys an official act. Former president Barack Obama is credited with starting the tradition of cracking "dad jokes" at the pardon.
But Trump wouldn't be Trump without adding something else to this otherwise dour occasion, and instead of an Obama dad joke did something more Trumpian. The president decided to add spice to the event by blasting Rep. Adam Schiff (D-CA), chair of the House Intelligence Committee. Trump tried to sound funny by saying both turkeys had been summoned to appear before Schiff's "basement."
"These turkeys will remain calm under any condition," noted Trump, "which is good because they've been subpoenaed to appear in Adam Schiff's basement on Thursday."
"Unlike previous witnesses, you and I have actually met," said Trump to both toms.
Trump blasted the media, as well, saying: "I expect the pardon will be popular with the media. After all, turkeys (are) closely related to vultures."
Bread and Butter were taken to Washington D.C. from North Carolina and were billeted at the Willard InterContinental Hotel before their Rose Garden appearance.
A White House press release said Bread likes Cheerwine, bluegrass music and college basketball. On the other hand, Butter enjoys eating sweet potato fries, listening to bagpipes and watching NASCAR. Typical white turkey stuff.
The White House also posted videos of the turkeys checking into a special suite at the hotel, and released baseball card-like statistics on both Bread and Butter. The National Turkey Federation introduced the birds at a press conference on Tuesday. Polling decided which turkey would receive the official pardon, with Americans voting for Butter on Twitter.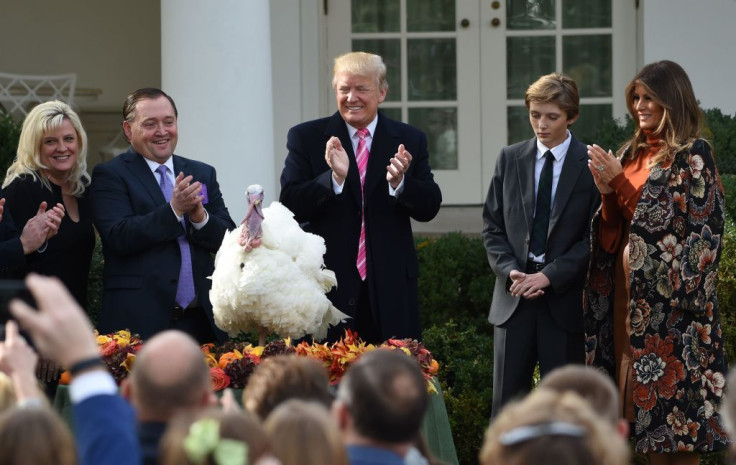 © Copyright IBTimes 2023. All rights reserved.