Trump's New York Times Interview Ends With Promise Of Second Term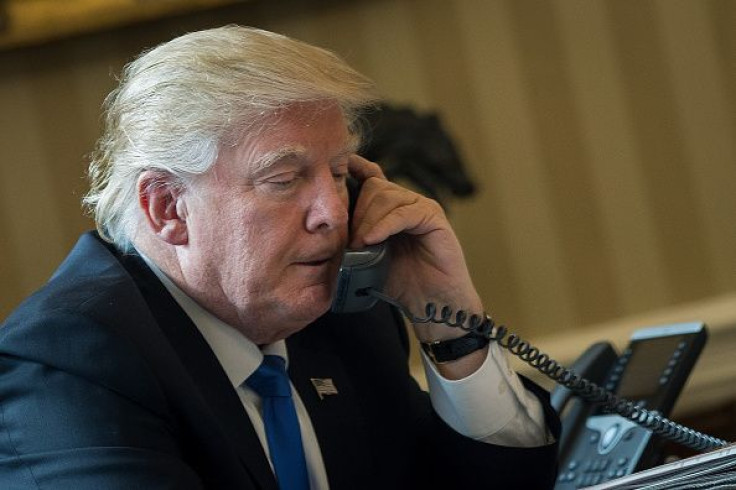 President Donald Trump sat down for a full-fledged interview with the New York Times on Thursday, in the Grill Room of his golf club in West Palm Beach, Florida. Although he discussed an array of topics, he did not mention anything that people had not already heard before.
From the Russia probe and his 2016 election win to tax reform and North Korea —President covered it all in the extensive interview, wrapping it up in his true Trump-style. But since he did not give away any shocking or even fresh information, the interview ended up lacking spark.
Here are few of the not-so-untouched topics he talked about:
Mueller's Russia Investigation
From Trump's disappointment and frustrations at the former Attorney General Jeff Sessions recusing himself from the Russia investigation to special counsel Robert Mueller going after members of his administration to find out if they had colluded with the Kremlin or not — the president gave away no new information that he hasn't already said before.
Except, he used the word "collusion" a total of 23 times in the interview.
Here's an example of his frequent usage of the word during the interview: "Let's just say — I think that Bob Mueller will be fair, and everybody knows that there was no collusion. I saw Dianne Feinstein the other day on television saying there is no collusion. She's the head of the committee. The Republicans, in terms of the House committees, they come out, they're so angry because there is no collusion… There was collusion with the Russians and the Democrats. A lot of collusion."
Although Trump said he was not sure how long Mueller would take to complete his investigation, he hopes that it would be soon because "it makes the country look bad, it makes the country look very bad, and it puts the country in a very bad position. So the sooner it's worked out, the better it is for the country."
Hillary Clinton
Rerouting the conversation to former Secretary of State and his opponent in the 2016 election, Hillary Clinton, Trump spoke about how the Department of Justice should focus on Clinton's disappeared emails and the made-up Russia dossier instead of wasting their energies probing his administration.
He added that Democrats refused to believe that he, being a Republican, could win the Electoral College and that is why they are trying to prove that he did something illegal during his campaign.
"I won because I was a better candidate by a lot," Trump said adding, "I won because I campaigned properly and she didn't. She campaigned for the popular vote. I campaigned for the Electoral College."
Tax Reform
Perhaps the most pertinent information in the entire interview was Trump mentioning that while he was willing to work on developing a bipartisan tax plan, none of the Democrats agreed to contribute toward it.
"Had they asked, 'Let's do a bipartisan,'… I would have done bipartisan," the president said. "I would absolutely have done bipartisan… But they were very ineffective."
After boasting about how he got rid of the individual mandate the in Obamacare — a decision that he claimed would make him popular among the masses — Trump invited Democratic lawmakers to collaborate with his administration on developing a bipartisan infrastructure and healthcare bills.
Infrastructure Bill
According to Trump, the administration is presently laser focused on developing an infrastructure plan that will at least have a budget of a trillion dollars.
"We want to fix our roads, our highways, our bridges, which are in bad shape, he said. "And you know some of them are actually, they're x-ed out, they have, you know, possibilities of collapse under bad circumstances. And in 10 years they will collapse."
North Korea And China
After calling Chinese President Xi Jinping a friend, Trump explained why it seemed like he had adopted a softer stance toward China when it comes to it's the insufficient handling of North Korean escalating nuclear threat.
"China's hurting us very badly on trade, but I have been soft on China because the only thing more important to me than trade is war. O.K.?" Trump said.
He also spoke about how North Korea is illegally buying oil from China after he saw the news on Fox News. After learning this news, the president did not hesitate to send out the following tweet.
However, the incident in question — satellite images showing two North Korean and Chinese vessels engaging in mid-sea trade — occurred on Oct. 19. It also led the Department of the Treasury to place sanctions on six North Korean shipping and trading companies and 20 of their ships on Nov. 21 — something that the POTUS should have had knowledge about before the news surfaced on various media outlets.
Trump wrapped up the interview by saying that he was pretty sure he was going to be reelected for a second term because he was good for TRPs.
"...I'm going to win another four years is because newspapers, television, all forms of media will tank if I'm not there because, without me, their ratings are going down the tubes... So they basically have to let me win. And eventually, probably six months before the election, they'll be loving me because they're saying, 'Please, please, don't lose Donald Trump.'" Trump said.
FOR FREE to continue reading
✔️ Unlock the full content of International Business Times UK for free
offer available for a limited time only
✔️ Easily manage your Newsletters subscriptions and save your favourite articles
✔️ No payment method required
Already have an account?
Log in
© Copyright IBTimes 2023. All rights reserved.