Tucker Carlson Shows Up At Trump's Golf Event; Twitterati Says GOP Men Traded Masculinity For Money
KEY POINTS
Tucker Carlson appeared at Donald Trump's golf club in Bedminster on Sunday
The former president was hosting a Saudi-funded golf event at the club
Twitter users criticized this due to the alleged role of Saudi in the 9/11 attacks
Donald Trump and Fox News host Tucker Carlson's camaraderie during the Saudi-backed golf event held at Bedminster on Sunday has set tongues wagging. Twitter was abuzz with reactions after a video of the two GOP men laughing heartily went viral on the microblogging platform.
"Tucker Carlson and Donald Trump? What are they doing going over notes from Putin? Fox'#1 didn't get the memo about Trump from the NYP & WSJ saying Trump was unworthy for 2024?" one user tweeted.
The presidential hopefuls who might go head to head in 2024 appeared in high spirits as a section of attendees chanted "Let's Go Brandon" which is code for "F--k Joe Biden".
Earlier in the day, Trump had poked fun at President Joe Biden's Covid-19 relapse. Meanwhile, Carlson had pushed to rename monkeypox as "schlong Covid" on his late-night show last week, spurring rage among people.
"Just vile. Despicable beings. F---ing gross a-holes. Carlson needs to go away," tweeted another.
"Tucker Carlson Shows Up At Trump's Enemies of Democracy Saudi Golf Tournament. That is an anti-democracy home run and an irresistible event for Carlson, who has never met an authoritarian that couldn't swoon over. #OurBlueVoice #ProudBlue22" read another tweet.
"'Real men' @TuckerCarlson & donald trump groveling at the feet of the Saudi Arabians. GOP men trade their masculinity/principles for money #OurBlueVoice" tweeted another.
Trump appeared at the event wearing his red MAGA hat, and later tossed some of them to the stands at the Trump National Golf Club in Bedminster, which hosted the Saudi-funded LIV tournament from July 29 to July 31.
The final leg of the championship will conclude in mid-October at Trump's Miami club. The ex-President received major flak for hosting the event at his property because of Saudi's alleged role in the 9/11 attacks. Families of people who died in those attacks ran advertisements criticizing Trump's decision.
"After Trump is finished hosting the Saudi Arabian 9/11 golf tour, raking in more bone-saw blood money, and playing golf on the grave of his ex-wife — may be Letitia James can reschedule Trump's deposition for some time this week. I think Trump is done 'grieving'. Make him testify," a tweet read.
"The media slammed Biden for fist-bumping with Crown Prince Mohammed Bone Saw Where's the same outrage over Trump hosting a Saudi-financed tournament at his golf club? Where's the anger over his denying Saudi Arabia's involvement in 9/11? America first, my a--" another user had tweeted.
"Well nobody's gotten to the bottom on 9/11 unfortunately, and they should have," Trump told an ESPN reporter at the event. While running for the Presidential office in February 2016, Trump had suggested that the Saudis were behind the attacks.
"And they should have, as to the maniacs that did that horrible thing to our city, to the country, to the world," Trump had stated. "So nobody's really been there, but I can tell you that there are a lot of really great people that are out here today, and we're gonna have a lot of fun, and we're going to celebrate."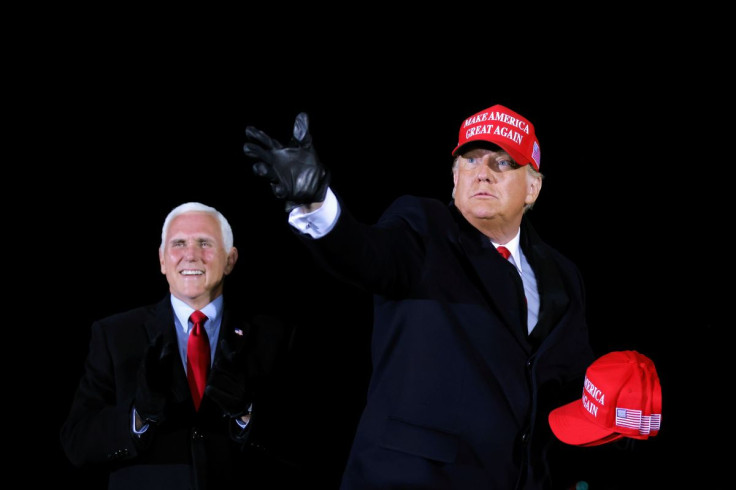 © Copyright IBTimes 2023. All rights reserved.