Twitter Hails Jane Fonda's Thoughts On Harvey Weinstein Allegations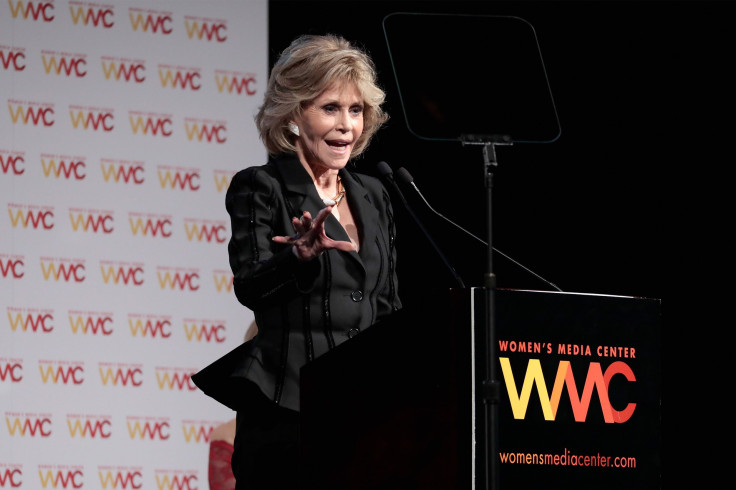 Actress Jane Fonda and activist Gloria Steinem, on Wednesday, appeared on MSNBC's "All In With Chris Hayes" to speak about the escalating allegations of sexual harassment, rape and assault against movie mogul Harvey Weinstein. Both of them appeared on the show for their non-profit organization, The Women's Media Center, which they co-founded with poet Robin Morgan in 2005.
In the interview, while Fonda acknowledged the fact that various women speaking out against Weinstein made a big difference, she also stressed on the fact that sexual harassment, rape or assault have been going on for a long time to black woman as well as other women of color but it fails to have the same impact. "It feels like something has shifted. It's too bad that it's probably because so many of the women that were assaulted by Harvey Weinstein are famous and white and everybody knows them. This has been going on a long time to black women and other women of color and it doesn't get out quite the same."
Steinem also weighed in on Fonda's opinion and said that there is power in numbers, especially when people are talking about sexual violence, Huffington Post reported. "If you steal money, you probably get arrested and convicted, because everybody says stealing is wrong. But if you do something that is very sexist or racist, because there still is a critical mass of bias in this country, it takes more cumulative instances for it to be recognized. So we have reached a tipping point I think."
As soon the interview was live, Fonda's comments started a stream of appreciative messages for the 79-year-old actress. Twitterati hailed Fonda for her coming forward to speak about issues which often get sidelined.
Writer Melanie Lutz tweeted, "Two women who have seen it all. #Legends get underneath the uses of power across industries. Women's Media Center."
Other Twitter users hailed both Fonda and Steinem and hoped that they stick around for a lot longer.
Harvey Weinstein was accused of sexual harassment and allegations of rape by more than 50 women ever since the New York Times and the New Yorker first published an article revealing the list of women that were harassed by the producer.
After scores of women came forward to speak about their experiences Weinstein was immediately removed from the Weinstein Company's Board on Oct. 8. The Academy of Motion Picture Arts and Sciences, on Oct. 14, also officially expelled Weinstein following these claims. The academy clarified their decision by revealing that they expelled Weinstein's membership to not only separate themselves from the film producer but to also take a stand against any harassment still prevalent in the industry.
A #MeToo campaign was also started on Twitter which soon became the highest trending hashtag on the microblogging site. The campaign was started by actress Alyssa Milano in an attempt to uncover the magnitude of sexual harassment prevalent in society and establish that the issue cannot be swept under the rug.
© Copyright IBTimes 2023. All rights reserved.