Twitter Reactions To Boston Marathon Runners Looting, Selling Alleged Stolen Merchandise on EBay [VIDEO]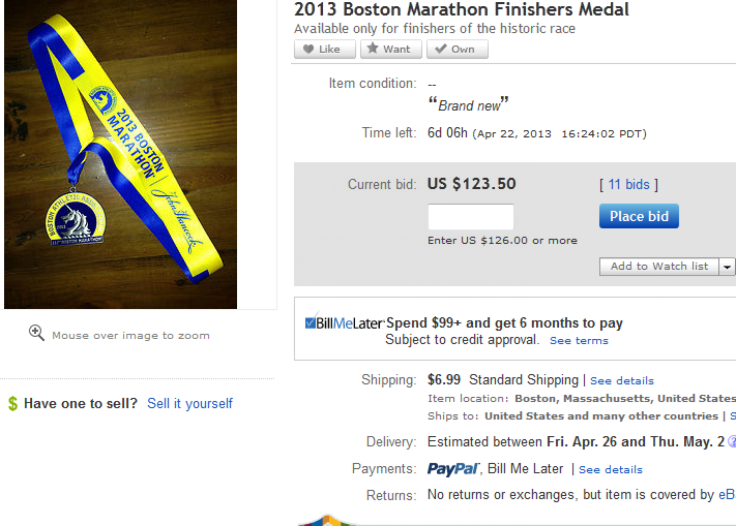 Less than 24 hours after three were killed and 176 injured by the Boston Marathon explosions Monday afternoon, auctions of alleged looted marathon merchandise were already up and running online.
BuzzFeed reported two different sellers offering 2013 Boston Marathon Finishers Medals for more than $100 with the item condition listed as "brand new." Another seller followed by pricing an identical medal for $118. As of Tuesday afternoon, the items already had 10 bidders. They are being sold by what Ebay considers reputable sellers.
While it is unclear whether the medals were stolen, there is speculation on that based on video footage of a large crowd, many who appear to be in running gear, looting a merchandise stand following the explosions.
In the broadcasted clip, hoards of people can be seen crowding around boxes of merchandise, walking away with armfuls of items including flags, shirts and jackets -- all with the tags still attached. Halfway through the clip, one male can be seen riffling through boxes of clothing items until he finds his correct size before casually walking away.
The controversial footage already has over 73,000 views and multiple copycat videos showing indentical images.
While there were many heroes in action at the tragedy, including NFL champion Joe Andruzzi, social media users are seething about bystanders racing to claim unattended merchandise instead of helping the injured.
While some are allegedly profiting from stolen goods, other online retailers are under fire for selling shirts that reference the attack.
Redbubble.com is currently offering "Pray For Boston" stickers and shirts in every size and color under the sun, ranging in price from $24 to $27 with no mentions as to where the profits would be going.
UPDATE: Sully's Brand contacted IBTimes Wednesday regarding their Boston iPhone cases. The cases in question were for sale before the Boston Marathon tragedy Monday and are not connected to the alleged ongoing scams.
The online company is selling "Believe in Boston" unisex shirts in connection with the tragedy; all proceeds will be donated to the One Fund Boston organization.
"The outpouring of support for Boston has been overwhelming. We had to do something to contribute positively and support the recovery effort...Stay strong Boston, wicked strong," said the website following a description of the charitable item.
© Copyright IBTimes 2022. All rights reserved.
FOLLOW MORE IBT NEWS ON THE BELOW CHANNELS