Twitter Reacts To Obama's Inauguration Day Letter For Trump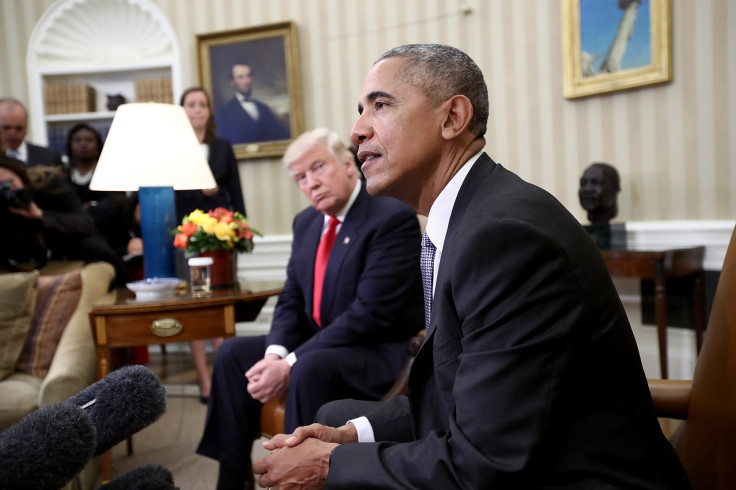 Before he left office in January, former President Barack Obama wrote a letter to his successor and put it in the Oval Office.
On Sunday, CNN published the contents of the letter Obama left for President Donald Trump, and which includes accolades for his win and advice specifying some of Obama's concerns.
"Congratulations on a remarkable run. Millions have placed their hopes in you, and all of us, regardless of party, should hope for expanded prosperity and security during your tenure," Obama wrote in the letter.
Ever since the letter was published, social media users have been quick to react on its contents. While some seriously doubted whether Trump had even read the letter, others suggested the president seemed to have not followed any of the advice provided by his predecessor in the letter.
In the letter, the outgoing commander in chief congratulated his successor and provided him items of advice for his upcoming tenure, according to CNN.
Obama went on to encourage Trump to "build more ladders of success for every child and family" and to "sustain the international order."
He also urged the president to leave the "instruments of our democracy at least as strong as we found them."
"We are just temporary occupants of this office," Obama wrote in the letter.
"That makes us guardians of those democratic institutions and traditions — like rule of law, separation of powers, equal protection and civil liberties — that our forebears fought and bled for. Regardless of the push and pull of daily politics, it's up to us to leave those instruments of our democracy at least as strong as we found them," he added.
Obama described the American leadership on the global stage as "indispensable" and urged Trump to retain it citing that the stability of the country depended upon it.
Finally, Obama told his successor to rely and have faith in his family and friends when the presidency became inevitably difficult to deal with.
Obama followed the customary tradition set by past presidents in writing the letter to Trump. He had received his own handwritten letter from former President George W. Bush on his inauguration day, which warned and counseled him of uncertain days ahead in his presidency, CNN reported.
"There will be trying moments. The critics will rage. Your 'friends' will disappoint you," Bush had written in his letter to Obama. "But, you will have an Almighty God to comfort you, a family who loves you, and a country that is pulling for you, including me."
Bush's predecessor, Bill Clinton, offered him encouragement before passing on the baton. "The burdens you now shoulder are great but often exaggerated," he wrote to Bush in 2000. "The sheer joy of doing what you believe is right is inexpressible."
Obama's letter to Trump is nearly twice as long as compared to the ones by other former presidents and includes more specific details and advice to his successor. But like Clinton and Bush, Obama also put forward a view of the job at the White House that is known both for its thrill and its humbling ability.
"Take time, in the rush of events and responsibilities, for friends and family," Obama wrote. "They'll get you through the inevitable rough patches."
Read the full transcript of the letter here.
© Copyright IBTimes 2023. All rights reserved.