Twitter Reacts To Prince Harry, Meghan's Netflix Doc Trailer Using Unrelated Stock Footage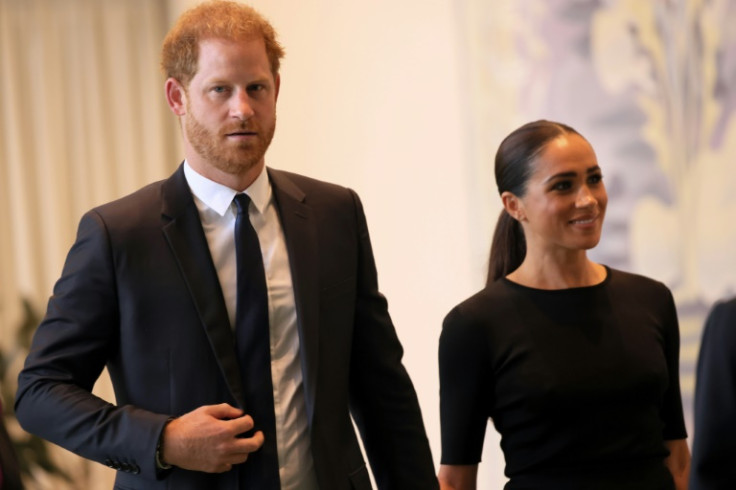 KEY POINTS
Twitter users identified in the docuseries trailer stock footage from events unrelated to Prince Harry and Meghan Markle
One clip was taken outside of a U.K. court as Katie Price arrived to be sentenced for drunk driving in 2021
Some users criticized the use of unrelated stock footage to suggest that photographers were invading the couple's privacy
Prince Harry and Meghan Markle's Netflix docuseries has sparked controversy ahead of its release for allegedly using in its trailer stock footage from paparazzi encounters unrelated to the couple to show them being hounded by photographers.
In a new promo for the six-part docuseries "Harry & Meghan" released Monday, Prince Harry and Markle addressed their turbulent relationship with the press as shots of paparazzi are shown in the teaser.
However, some outlets and social media users identified some of the shots as pictures from stock footage agencies taken at events that had no connection with the Sussexes.
Twitter user @Urban_Pictures tweeted that a clip that was used to "suggest a mob of paparazzi hounding" Prince Harry and Markle was actually depicting a group of photographers rushing to take pictures of model Katie Price. The user said the 2021 footage had been flipped horizontally.
BuzzFeed News reported that a Getty Images search revealed that the footage was taken outside of a U.K. court as Price arrived to be sentenced for drunk driving on Dec. 15, 2021.
The user also tweeted that footage that appeared to show Prince Harry and Markle's car being surrounded by the press in the teaser was also from an unrelated event. The footage actually showed photographers taking pictures of Michael Cohen, a former lawyer for Donald Trump, as he was leaving his apartment to begin his prison term in May 2019, according to the user.
A search on Getty Images showed that the clip depicted photographers trying to get a shot of Cohen, BuzzFeed News confirmed.
The Sun also reported that one image in the Dec. 1 trailer for the docuseries showing a group of paparazzi supposedly pointing their lenses at the couple was actually taken at the London premiere of "Harry Potter and the Deathly Hallows: Part 2" in 2011, years before Prince Harry and Markle met.
Twitter users had mixed opinions on the alleged use of stock footage in Prince Harry and Markle's docuseries trailer to show their relationship with the media.
"If it was as bad as they claim, they shouldn't need stock footage should they," one Twitter user commented. Another agreed, saying, "Spot on ... They were never chased by paps like that in London."
"They're complaining about paparazzi stalking but can't seem to find any photos of photographers hounding them and need to use stock images," a third critic wrote.
"Why use other people's experiences in a reality series about your life?? Because they never had the experiences they are peddling. They are both liars, frauds and con artists," a fourth user claimed.
But others pointed out that the use of stock photos and footage to provide context or background is not unusual for documentaries or news stories.
"They're called stock photos," one wrote with a rolling eyes emoji, in response to those questioning the use of the images and footage.
"Why is this a shocker? Documentary filmmakers ALWAYS do this! The point still stands; paparazzo and press are intrusive," another added.
"This is a tad overreacting. As a video editor for nationally syndicated documentaries and other programming, b-roll is often comprised of 'similar' themed footage to convey a sense of what it may have looked like. It's a common occurrence, not a definitive 'this is what happened,'" a third person tweeted.
"They're afraid of the actual interviews from Harry and Meghan. For anything that challenges their worldview, people would rather keep their eyes and ears closed. Who cares if the director used stock photos/videos to convey a message, their words will be theirs and that scares haters," another user suggested.
In the latest trailer for their docuseries, Prince Harry addressed the history of bad treatment of women who marry into the British royal family.
"The pain and suffering of women marrying into this institution, this feeding frenzy," the prince said, as footage of his late mother, Princess Diana, as well as tabloid covers, are shown in the teaser. "I was terrified. I didn't want history to repeat itself."
Markle added, "I realized they're never going to protect you."
"Harry & Meghan" will premiere on Netflix Thursday with its first three episodes. The remaining three episodes will air on Dec. 15.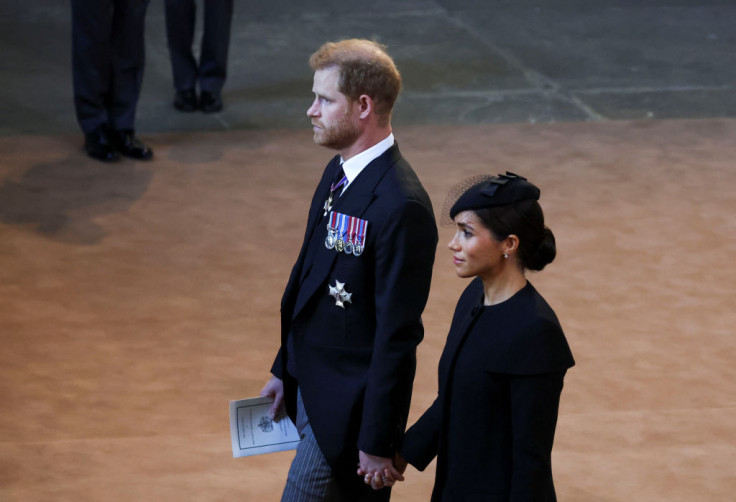 © Copyright IBTimes 2023. All rights reserved.
FOLLOW MORE IBT NEWS ON THE BELOW CHANNELS