Twitter Reacts To Stevie Wonder Taking A Knee 'For America' During Performance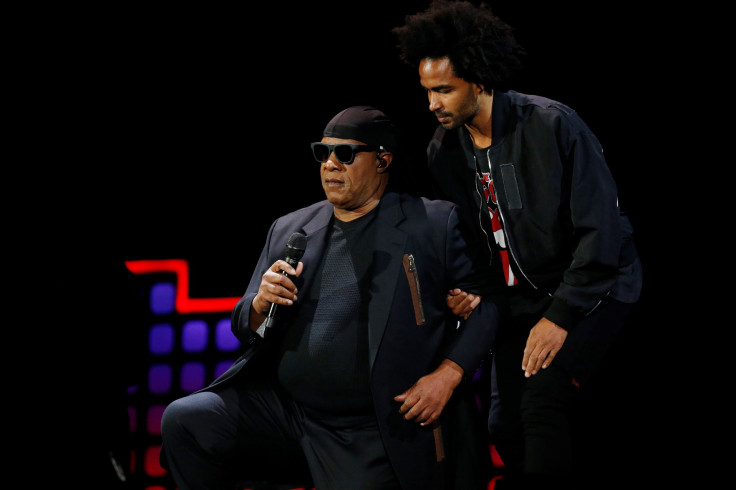 Musician Stevie Wonder took a knee Saturday night "for America" at the 6th annual Global Citizen Music Fest in New York's Central Park.
Though Wonder didn't explicitly spell out the reason for doing so, his act comes after President Donald Trump hit out Friday at NFL players and other athletes who protest the national anthem at sporting events by kneeling, sitting or raising their fists.
The "Superstition" singer appeared to have taken his cue from footballer Colin Kaepernick, whose now-viral move to take a knee during national anthem ahead of the 2016 NFL season has found many supporters in the sports fraternity.
"Tonight, I'm taking a knee for America," Wonder said. "But not just one knee, I'm taking both knees. Both knees and pray for our planet, our future, our leaders of the world and our globe."
"Our global brothers and sisters, I didn't come here to preach, but I'm telling you, our spirits must be in the right place all the time," he said.
The singer's son, Kwame Wonder, helped his father to kneel down. Stevie called on his Central Park audience to denounce bigotry and sexism, New York Daily News reported.
Wonder also said during the festival: "We must take care of each other, and this planet. If we don't, we could lose the ultimate video game of life."
The singer was possibly referencing to an exchange of insults between Trump and North Korea's leader Kim Jong Un.
"Weapons are real and rhetoric is dangerous," Wonder said.
Along with the thunderous applause given by the crowd present at the venue to Wonder, even social media users gave a thumbs up to his decision of taking a knee at the festival.
While some Twitter users said that his "integrity" was as good as his music, other said the entire nation should take a knee following Wonder's example.
Some users also said that even a blind man (Stevie Wonder) could see and was aware of what was going on around the world than many of the people who can actually see, probably referring to Trump.
Later during the show, Wonder also dedicated his song "Signed, Sealed, Delivered" to Sen. John McCain (R-Ariz.), who was recently diagnosed with brain cancer. The song was in honor of McCain's refusal to vote for Trump's bill to repeal and replace the Affordable Care Act also known as Obamacare.
"Sing it for Senator McCain," Wonder said. "It's about doing the right thing."
Wonder has been vocal about social, political and environmental issues. Recently, during a telethon for Hurricane Harvey, the singer made a speech saying that keeping all issues such race, religion, political affiliation or sexual preference aside, one must help those devastated by the storms, a report said.
In April, the singer made a similar speech after accepting the inaugural "Key of Life" award from a performing rights organization, American Society of Composers, Authors and Publishers, in Los Angeles.
"People hating people because of their sexual preference, or the color of their skin or their religion — it's just ignorance and stupidity," said Wonder. "Thinking about these last 12 years, so many things happening in the world, we are left with the challenge of getting the world back to the right place. And we know consistently what has been so important in doing that is music."
© Copyright IBTimes 2023. All rights reserved.