Tyra Banks Instagram Rant: Models Have To Be 'Skinnier Than Skinny'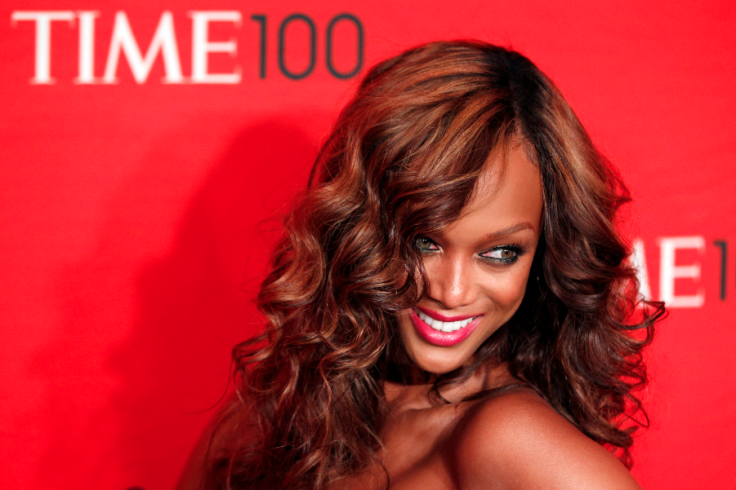 Although a cynic could joke that beautiful models are not exactly the most oppressed group living among us, the fact is, the body-image standards they're held to by the modeling industry trickle down to everyday women. And on Thursday, Tyra Banks ranted about the unfairness in an Instagram post.
Being a model in the early 1990s was easier, wrote Banks, who, along with supermodels like Naomi Campbell and Cindy Crawford, ruled the catwalks. Banks criticized the modern-day modeling industry for its unrealistic expectations, laying blame on social media as well for creating a forum in which a model's looks are always under scrutiny.
"When I was a young model, yeah, we had to think about our weight, but not like today," Banks wrote in the "Throw Back Thursday" Instagram post. "I think I was a size 6, not a size 0." She added later, "They have to be slimmer than slim. Skinnier than skinny."
Because models are competing now with actresses and pop stars for magazine coverage, and must market themselves on image-heavy social media like Instagram, Banks said they have to always be camera-ready, on and off the runway. And they have to document themselves on social media.
"They have to compete with actresses, recording artists and reality stars for magazine covers and ad campaigns," she wrote. "They have to have tons of followers on social media to book top notch jobs. And they have to do selfies that make them look relatable, but not TOO relatable, because then people may comment that they don't understand, 'Why the heck is THAT girl a friggin' model??!!!!' "
Banks shared the message accompanied by a photo of herself backstage at a fashion show in a flannel shirt, jeans and high-tops, while Cindy Crawford, similarly "unglamorous," sits and reads a book.
With photo-perfecting apps that improve social media photos and people even getting surgery to look like their Instagram photos, no doubt this pressure for models to look perfect -- and to be a size zero -- has trickled down to everyday women who consume these images. The hashtag #Goals is a common comment one woman will send to another when looking at so-called perfect images of models on Instagram, suggesting a pressure to resemble the models, whose job it is to hyperfocus on looks.
"I'm sending love and hugs to all working, aspiring and supermodels worldwide," Banks wrote at the end of her post. "You all have lots to live up to. And I'm here cheering for you every single day. Stay strong girls."
She could just as well have been saying that to all the followers of these models who feel similar pressures.
© Copyright IBTimes 2023. All rights reserved.
FOLLOW MORE IBT NEWS ON THE BELOW CHANNELS