UN Declares Emergency In Gaza After Floods Batter Coastal Enclave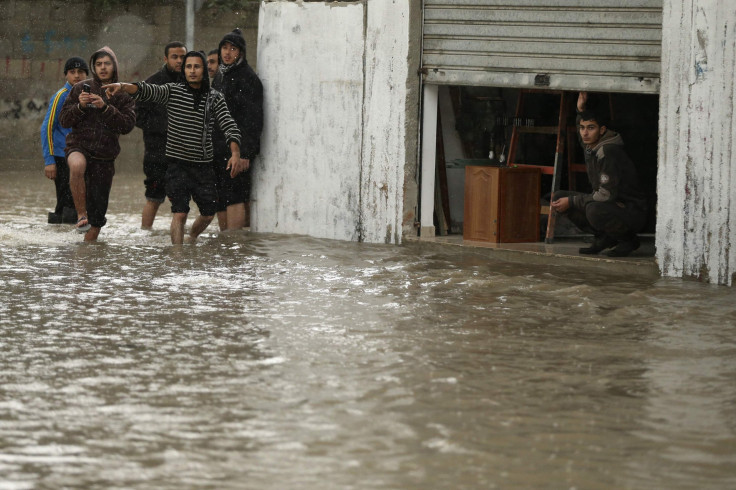 The United Nations Relief and Works Agency (UNRWA) declared a state of emergency in the Gaza Strip after days of torrential rains caused severe flooding in the coastal Palestinian enclave. The floods have further worsened "the already poor humanitarian situation for refugees and non-refugees in Gaza," UNRWA said, in a statement released Thursday.
"Hundreds of residents in the flooded areas around Sheikh Radwan storm water lagoon have evacuated their homes," the U.N. agency said, referring to a northern district located about 2 miles from Gaza City. "As a precautionary measure, 63 schools in Gaza City are closed today for the afternoon shift, affecting almost 65,000 students. Forty-three schools in the North Area of the Strip are also now closed."
Robert Turner, UNRWA's Director of Operations in Gaza, said that the U.N. is "very concerned" about the impact of the floods on the nearly 100,000 Palestinians who were displaced during the war earlier this year and rendered homeless.
"We are particularly concerned for those families still seeking adequate shelter and preparing for the winter months, and for the impact the flooding is already having on children unable to attend school," he said, in the statement.
UNRWA, which has been carrying out a massive relief and rehabilitation program in Gaza since the war ended in August, is attempting to provide emergency aid supplies, including fuel for pumping stations, portable pumps, water, sanitation and health facilities, the agency said, in the statement.
The latest floods come nearly a year after the densely-populated Palestinian enclave, which houses 1.8 million people, was hit by one of the worst storms in decades. Thousands of people were evacuated after floodwaters submerged low-lying areas and damaged nearly 20,000 houses in December 2013, according to media reports.
© Copyright IBTimes 2023. All rights reserved.