'Under The Dome' Season 2 Spoilers: Did Lyle Kill Angie? [Episode 4 Recap]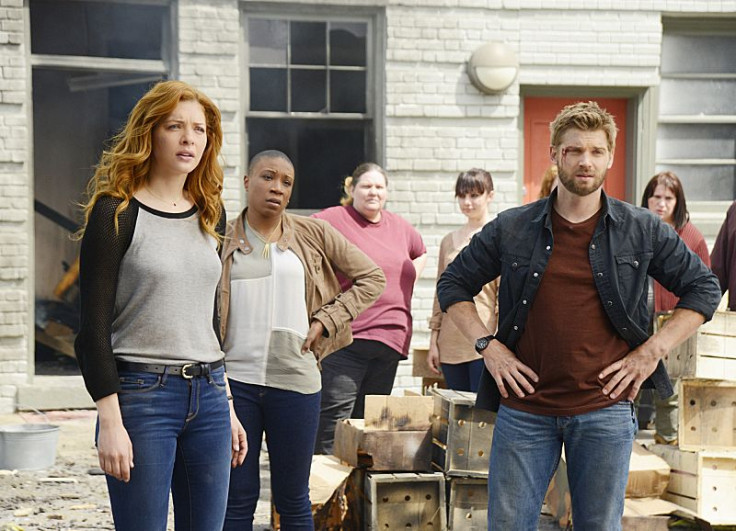 And just when we thought "Under the Dome" couldn't get any more complicated Stephen King went and out did himself with a new wild twist added to the hit CBS series' plot.
A lot went down during tonight's airing of "Revelation" but one of the biggest questions fans were left with after episode 4 concluded was: Is the person who killed Angie the same person who murdered Melanie?
As it turns out Melanie is from the past – and she also happens to be the former girlfriend of Sam. Which is weird because he oddly didn't recognize Melanie when Julia appeared at his doorstep with his ex-girlfriend's doppelganger. What's with that?
Well, apparently we weren't the only ones who thought that was odd. Barbie also created the theory that maybe Sam is the one who killed Melanie. After revisiting Melanie's locker from 1988 the gang decides to bring the mystery girl to another place that might help jog her memory of who she is and where she came from: her house. The group learns from newspaper clippings that Melanie is the girl who was reported missing years back and she also came from the same hometown as Barbie before coming to Chester's Mill.
When the four arrive to Melanie's house they head to her old bedroom where it's revealed that the wallpaper used to be decorated with falling pink stars. Melanie reveals that she once saw pink stars falling through her window and went to investigate. When Melanie digs her feet into the sand where the pink stars had fallen she's overcome with a rush of memories. She starts to remember that she was at that exact spot the night a meteor fell – along with Sam, Paulina and Lyle.
Melanie recalls that after the four touched the fallen meteor, it opened to reveal an egg. She took it when she became filled with the notion that she had to protect the egg. Next thing Melanie knew she was falling to her death when someone pushed her down the hill.
But who would do such a thing? Originally it was thought that Sam was the one who killed Melanie but soon Barbie's suspicions changed when the group came across Junior lying unconscious.
Big Jim's son revealed it was Lyle who had knocked him out – and stole his mother's journal. Yes, apparently she's still alive and living outside the dome. How convenient?
Before Lyle did hit Junior over the head he revealed that his mother might have prophesized Angie's death in one of her hand-drawn postcards. This strikes Junior as odd. Did Lyle have something to do with Angie's death? After Junior insinuates his theory Lyle attacked him and fled. Melanie then wonders herself if Lyle could be her killer.
What do you think? Sound off in the comments section below who you think killed Angie and Melanie in "Under the Dome."
© Copyright IBTimes 2023. All rights reserved.