US 17th In Global Education Ranking; Finland, South Korea Claim Top Spots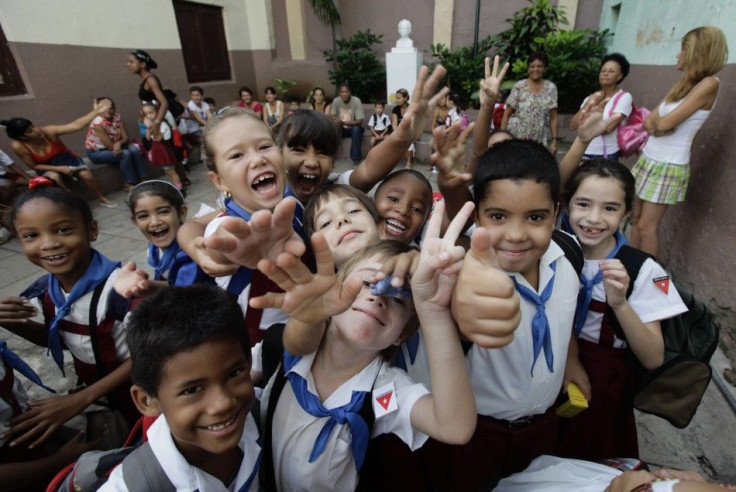 The U.S. was ranked 17th in an assessment of the education systems of 50 countries, behind several Scandinavian and Asian nations, which claimed the top spots.
Finland and South Korea grabbed first and second places, respectively, in a global league table published by the education firm Pearson, while Hong Kong, Japan and Singapore ranked third, fourth and fifth, respectively.
The study, carried out by the Economist Intelligence Unit (EIU), combines international test results and data such as literacy rates and graduation rates between 2006 and 2010.
A wide range of education inputs, both quantitative data -- such as spending on pupils and class size -- as well as qualitative data -- such as level of school choice -- were examined along with numerous potential outcomes ranging from development of cognitive skills to GDP growth.
The U.K. was ranked 6th, followed by the Netherlands, New Zealand and Switzerland, respectively. Canada was ranked 10th, followed by Ireland and Denmark, respectively.
Australia, Poland, Germany and Belgium fared better than the U.S. on the top-20 list, which also included Hungary, Slovakia and Russia.
At the lowest end of the 50-nation list were Mexico, Brazil and Indonesia.
A report that accompanied the rankings suggested that promoting a culture that is supportive of education is more important than the amount of money invested.
The report said that the success of Asian nations in the rankings reflects the complex impact each society's attitude toward education has in defining its effectiveness.
"More important than money, say most experts, is the level of support for education within the surrounding culture. Although cultural change is inevitably complex, it can be brought about in order to promote better educational outcomes," the report said.
The study also underscored the importance of good teachers in improving educational output.
"Having a better [teacher] is statistically linked not only to higher income later in life but to a range of social results, including lower chances of teenage pregnancy and a greater tendency to save for their own retirement," the report noted.
However, there was no agreed-upon list of traits to define or identify an excellent teacher or recipe for obtaining one, the report said.
In general, the teaching profession commands greater respect in nations with successful education systems than in those that do not. However, higher salaries accomplish little by themselves, according to the report.
The study suggested that countries with a greater choice of schools provided better educational outcomes than those that offered fewer choices of schools.
"For-profit private education is providing students in some of the least-developed areas of the world an alternative to poor state provision and showing the potential benefits of choice and accountability," the study said, adding that parental pressure on educational institutes for better performance should not be seen as impediments.
"Many of today's job titles, and the skills needed to fill them, simply did not exist 20 years ago," the study said, adding that schools need to revamp their syllabi to provide students with skills they may need in the future due to advancements in science and technology.
© Copyright IBTimes 2023. All rights reserved.
FOLLOW MORE IBT NEWS ON THE BELOW CHANNELS