U.S. Hikers Describe Their Two Years in Iranian Jail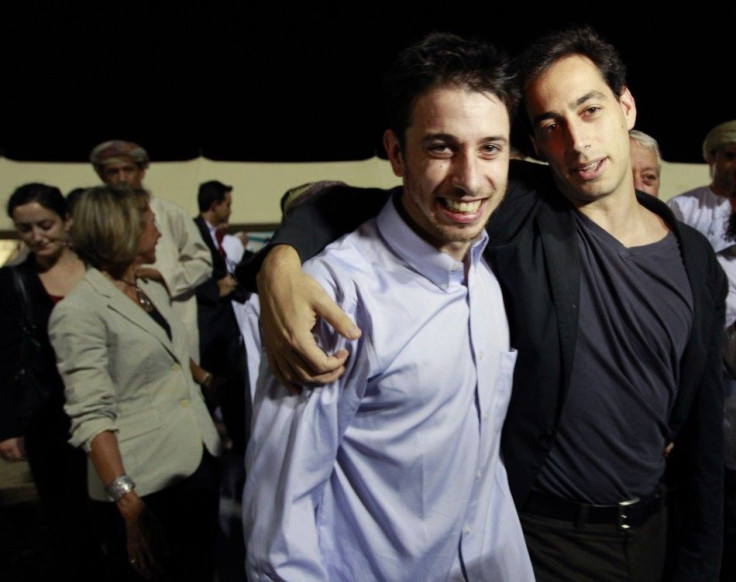 Speaking for the first time since their release, the American hikers who spent more than two years in Iran Jail described their ordeal that started in 2009, to the media.
The hikers, who were convicted of spying in northern Iran, gave accounts of hearing other prisoners scream and hold hunger strikes for better living conditions.
They described their living as a world of lies and false hope.
Josh Fattal and Shane Bauer, both 29 landed at John F. Kennedy Airport and a few hours later reached Manhattan hotel.
Sarah Shourd, who was also arrested along with Fattal and Bauer, was released in September 2010, in what Iran's President, Mahmoud Ahmadinejad, called a humanitarian gesture, whereas the men were sentenced to eight years in prison. She was also present at the Manhattan Hotel.
Iran's foreign ministry said that the release of the hikers from Tehran's Evin Prison was a gesture of Islamic mercy.
Releasing us is a good gesture, and no positive step should go unnoticed. We applaud the Iranian authorities for finally making the right decision regarding our case, said Fattal. But we want to be clear that they do not deserve undue credit for ending what they had no right and no justification to start in the first place.
Bauer said that he wasn't even sure if they had crossed the border during their hike when they were taken away by the Iranian officials from Iraq's Kurdish region.
When asked if Iran can be forgiven, Bauer said, How can we forgive the Iranian government when it continues to imprison so many other innocent people and prisoners of conscience?
We had to go on hunger strike repeatedly just to receive letters from our loved ones, Fattal said in his statement. Many times, too many times, we heard the screams of other prisoners being beaten, he added along with the fact that they were put in isolation for most of their time in prison and were allowed just 15 minutes total of phone calls with their families.
Fattal and Bauer were finally released on Wednesday after securing judicial approval for bail which is set at $500,000 each.
Since Sarah, who is engaged to Bauer, was released; she has been living in Oakland. Bauer is a freelance Journalist and Fattal is an environment activist. The three are friends since their college time.
On any other day we would have been blindfolded and led down the hallway to our 8-foot-by-13-foot cell, Fattal said about the day they got to know about their release. But on that day, the guards took us downstairs. They fingerprinted us and gave us street clothes. They did not tell us where we were going.
They were taken to another part of the prison, where an Omani official was waiting for them and said, Let's go home.
© Copyright IBTimes 2023. All rights reserved.