US Open 2015: Serena Williams Dominating Women's Tennis Ahead Of Grand Slam Tournament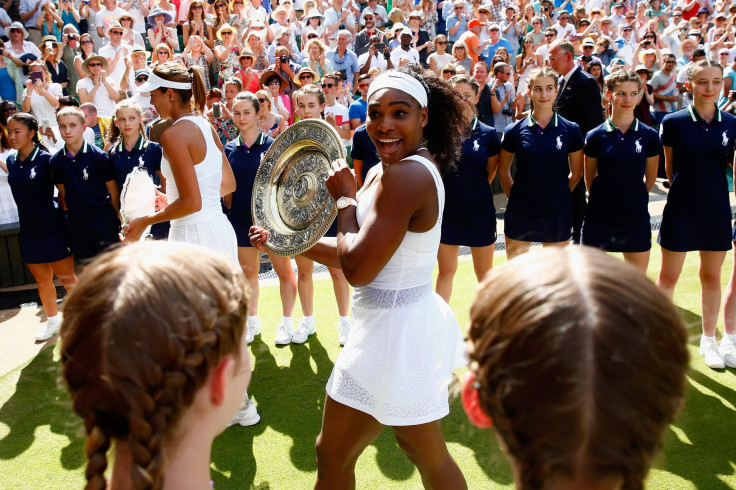 It's been 16 years since Serena Williams won her first Grand Slam tournament, earning a straight-sets victory over Martina Hingis in the 1999 U.S. Open. The world's best women's tennis player is less than two months away from her 34th birthday, but she appears just as dominant as ever as she seeks her 22nd career Grand Slam title at the 2015 U.S. Open.
Williams isn't just the No.1 tennis player in the world, but she's become one of the most dominant athletes in any sport. During a time when Williams should be heading into the twilight of her career she's been better than ever with a chance to win every Grand Slam tournament this year.
Her win at Wimbledon 2015 gave Williams four consecutive Grand Slam championships, dating back to last year's U.S. Open. In addition to her success this year, William's recent dominance in Flushing Meadows has made her the overwhelming favorite to win the title next month. She has won the tournament three consecutive years, totaling six career U.S. Open titles and eight appearances in the finals.
Williams hasn't completed a tournament since Wimbledon, withdrawing from the Swedish Open in the second round just days after winning her most recent Grand Slam. Staying away from the smaller tournaments has kept Williams fresh for the major events, allowing her to play her best when the most is on the line.
But even when Williams has played in smaller tournaments this year, she's been nearly unbeatable. The American has gone 16-1 in matches outside of the Australian Open, French Open and Wimbledon.
Williams has certainly experienced her share of upsets throughout her career, but at the moment there doesn't appear to be viable contender to unseat her from atop the rankings. Maria Sharapova ranks No.2 in the world, but has half nearly half the number of WTA points as Williams. There is also little reason to believe she will prevent Williams from winning the U.S. Open. Sharapova is just 2-18 against Williams in her career, losing 17 consecutive matches against Williams. Sharapova lost to Williams in straight sets in the Wimbledon semifinal, failing to force a third set for the 12th time in 13 tries.
Simona Halep ranks No.3 in the world, and she might have the best chance of any top-10 player to defeat Williams at the U.S. Open. Halep is 1-5 against Williams in her career, claiming a hard-court victory in the round-robin stage of last year's WTA Championships. Williams defeated Halep in the semifinals of this year's Miami Masters, but needed three sets to do so. Halep, however, has never even reached the U.S. Open quarterfinals.
No.4-ranked Petra Kvitova is the only person to beat Williams in a singles match in 2015. But the victory came on clay, and Kvitova hasn't advanced past the fourth round of the U.S. Open in seven tries.
Victoria Azarenka ranks No.19 in the world, but her battles with Williams in recent years have made her the most likely player to upset the defending U.S. Open champ. The two rivals faced each other in the finals of the year's last Grand Slam tournament in both 2012 and 2013, with Williams winning both matches in three sets. Williams needed three sets to beat Azarenka in this year's Wimbledon quarterfinal, and Azarenka picked up two hard-court wins over Williams in 2013.
Williams is currently sitting out the Bank of the West Classic as she nurses an elbow injury, though she's expected to be ready for the U.S Open on Monday, Aug. 31.
© Copyright IBTimes 2023. All rights reserved.