US Public's Trust In News Media Near An All-Time Low, Says Poll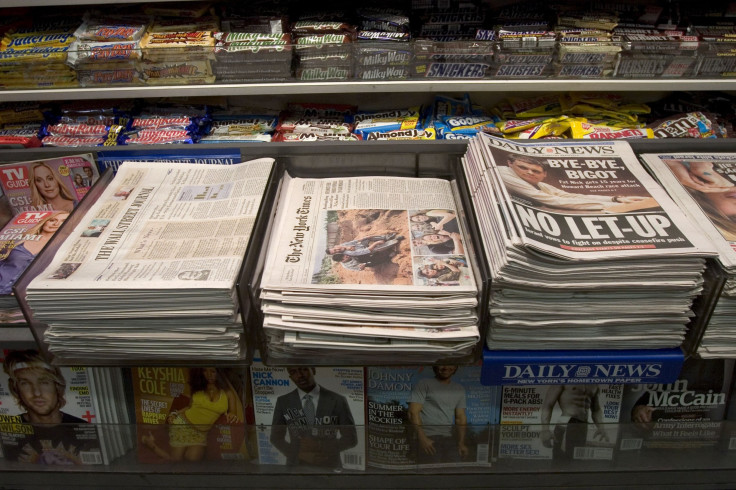 Media consumption may be at an all-time high, but the public's trust in it is near an all-time low. A poll conducted by the Media Insight Project, a partnership between the American Press Institute and the Associated Press-NORC Center for Public Affairs Research, finds that just 6 percent of American adults have "a lot of confidence" in the media, putting it roughly in line with the U.S. Congress among the lowest-ranked institutions in American public life.
The Media Insight Project polled 2,014 people representative of the U.S. population. It said its results have a margin of error of 2.9 percentage pints.
About 6 in 10 Americans read, watch or listen to news content multiple times a day, and over the past two decades, their media consumption habits have transformed. People now get media from a diverse array of digital sources, and those shifts have touched off a revolution in how media is produced and distributed. News organizations that produced one or two reports every day now look to publish content continuously, and that same content now competes for Americans' attention with an exceedingly rich array of alternatives.
More and more, that competition is taking place inside streams on social media platforms like Facebook and Twitter, which have evolved from spaces for self-expression into media hubs. A separate study conducted by the Pew Research Center and the Knight Foundation found that nearly two-thirds of Facebook and Twitter users now consume news on those sites, marked increases from the 52 percent and 47 percent of users who used those respective networks to gather news in 2013.
The news' migration onto those platforms has not done it any favors. The Media Insight Project's survey found that just 12 percent of Americans trust the information they gather from those sites.
The media world's other key stakeholders are struggling in the court of public opinion too. Research commissioned last year by the American Association of Advertising Agencies found that just 10 percent of Americans think the U.S. news media operates with any integrity, and a third poll, conducted by Harvard's Institute of Politics, found that just 12 percent of Americans believe the media does the right thing.
© Copyright IBTimes 2023. All rights reserved.