US Senator And War Veteran Tells Fox News Host Tucker Carlson To 'Walk A Mile In My Legs' After Saying She 'Hates America'
KEY POINTS
Illinois Senator and Iraq War veteran Tammy Duckworth responded on Twitter to comments by Fox News' Tucker Carlson
Carlson earned Duckworth's ire for comments she and other Democratic leaders "hate America" for her comments about racial tensions in the U.S.
Duckworth is one of many women said to be on the list of possible running mates for Joe Biden
Sen. Tammy Duckworth, D-Ill., hit back at Tucker Carlson on Tuesday after the Fox News host said Duckworth and others who share her views "hate America." Duckworth shared a short and simple retort to Carlson on Twitter.
The comment is a reference to Duckworth's handicap, as she lost both legs in a helicopter crash while stationed with the U.S. Army in Iraq during 2004.
Carlson spoke about Duckworth during the opening monologue of his Fox News show during its Monday broadcast. Carlson's comments were in response to a CNN interview Duckworth did on Sunday about the death of George Floyd at the hands of a police officer in Minneapolis, Black Lives Matter protests and removal of statues across the U.S.
"What really struck me about the speech that the President gave at Mount Rushmore was that he spent more time worried about honoring dead Confederates than he did talking about the lives of the 130,000 Americans who lost their lives to COVID-19 or by warning Russia off of the bounty they're putting on American's heads," Duckworth said on "State of the Union."
"I mean his priorities are all wrong here. He should be talking about what we're going to do to overcome this pandemic. What are we going to do to push Russia back? And instead, he had no time for that."
Duckworth's commented sparked Carlson to target her on Monday.
"You're not supposed to criticize Tammy Duckworth in any way because she served in the military," Carlson said. "Most people just ignore her. But when Duckworth does speak in public, you're reminded of what a deeply silly and unimpressive person she is.
"But in the face of all this, the conclusion can't be avoided: These people actually hate America."
Despite Carlson's comments, Duckworth has seen her stock within the Democratic Party rise over the last month as she is said to be one of several women being considered as Democratic presidential hopeful Joe Biden's running mate.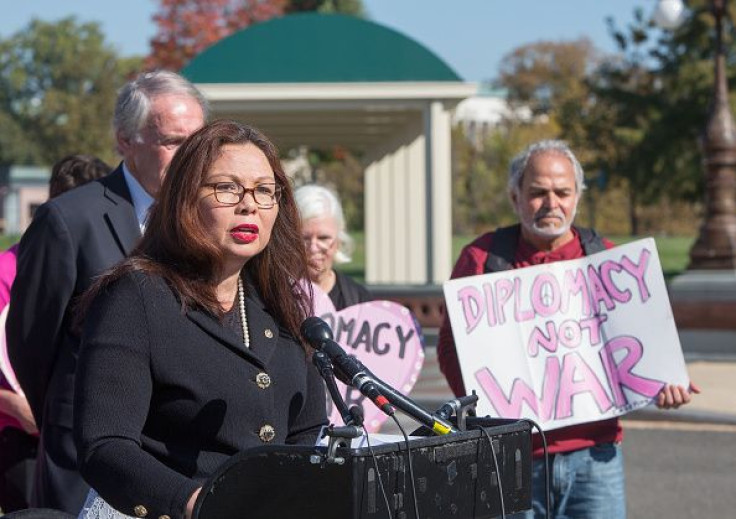 © Copyright IBTimes 2023. All rights reserved.