USA-Japan Women's World Cup Final Breaks TV Ratings Record For Women's Soccer, Tops 1999 Win Over China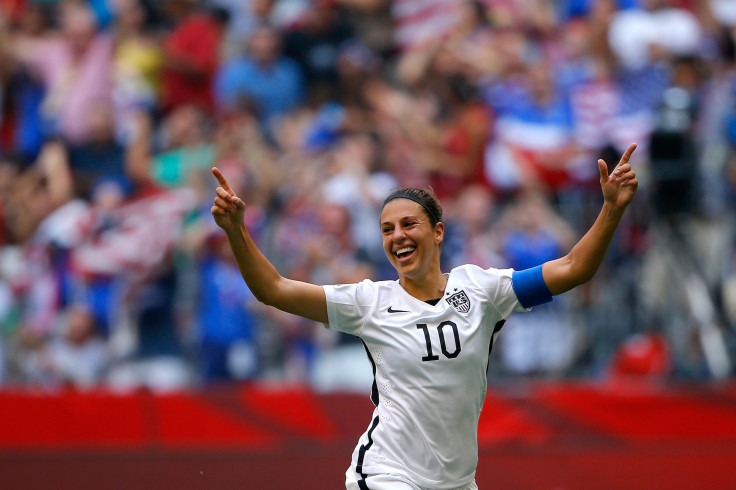 The U.S. National Women's Soccer Team has even more reason to celebrate after winning the 2015 FIFA Women's World Cup. The overnight TV ratings are in, and Sunday night's match between the U.S. and Japan garnered record-breaking numbers, trumping the 1999 final match.
According to Sports TV Ratings, the final match, which was broadcasted on Fox, had a 15.2 overnight rating, or nearly double the TV audience of the 2011 final. (Overnight ratings are based on numbers from local stations; more precise numbers will come later.) While projecting numbers of viewers from ratings is an inexact science, Douglas Pucci, a blogger for TV Media Insights, estimates the game had somewhere from 21 million to 23.5 million viewers.
UPDATE: The match drew a total of 20.35 million viewers with a 6.4 rating in the demo, reports Zap2it's TV By The Numbers.
This number bests the 1999 Women's World Cup final, the last time the U.S. took the title, in a match against China, which garnered a then-record 13.3. overnight rating. In 2011, the U.S. lost to Japan in the final match, and that game only had an 8.6. That game was played in Germany, a tougher time zone for U.S. audiences than Vancouver, British Columbia, the venue for last night's game.
In Sunday's game, the U.S. beat Japan, the defending champion, 5-2, scoring four unanswered goals in the first 16 minutes. Sports TV Ratings is reporting that Fox says the broadcast peaked from 8:45 to 9:00 p.m. with an 18.3 rating.
© Copyright IBTimes 2023. All rights reserved.