'Utopia 2014' Ratings: Should Fox Cancel The Reality Show After Just One Week? [POLL]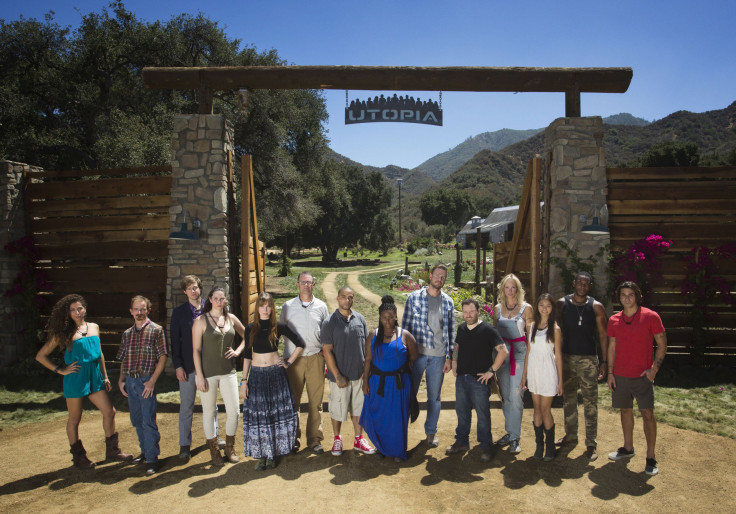 Fox's latest reality show "Utopia" might be creating a perfect society, but the reality show's ratings are far from perfect. The show debuted to 4.6 million viewers on Sunday, Sept. 7, and then pulled in 2.5 million viewers on Tuesday, Sept. 9. The Tuesday drop wasn't very comforting since it was the normal time slot premiere for the new reality series. "Utopia" is also airing on Fridays for the first six weeks, and on Sept. 12 the show dropped to 1.9 million viewers.
These are pretty disappointing numbers for Fox. The network reportedly put $50 million into creating the show, which uses 129 cameras on 10 acres of land in Santa Clarita, Calif. However, it appears that the network is going to see if the show eventually finds an audience.
The show follows a group of people as they try to create a perfect society. They don't win a prize or compete in crazy challenges. They just have to figure out a way to create an ideal community. Fox plans to air the series over the next year, and viewers can watch the show 24/7 online for a fee of $4.99 a month. Viewers can also apply to be on the current season of "Utopia" as cast members get voted off, and new Utopians are added to the show.
"It's an ambitious idea," Fox Television Group chairwoman and CEO Dana Walden told The Wrap. "It's a show that feels familiar but has a great unconventional twist. There's an aspirational feel to it. But we launched it really early, maybe before viewers were ready for a new fall show. No one thought we were going to launch a huge ratings juggernaut, but with patience it will grow and we're going to have patience."
Fox Television Group's other chairman and CEO Gary Newman shared Walden's view and claimed that immediate numbers weren't the only factor that mattered. "Networks don't turn around quickly and the delayed viewing tells a new story," Newman said. "We're going to look really closely at the three-day, seven-day and even 30-day delayed viewing numbers."
Do you think Utopia should be cancelled or should Fox give the show a chance to find an audience? Take the poll below!
"Utopia" airs Tuesdays and Fridays at 8 p.m. EDT on Fox.
© Copyright IBTimes 2023. All rights reserved.
FOLLOW MORE IBT NEWS ON THE BELOW CHANNELS