'Vampire Diaries' Pranks: A Look Back At Tricks Nina Dobrev And The Cast Pulled Before The Series Finale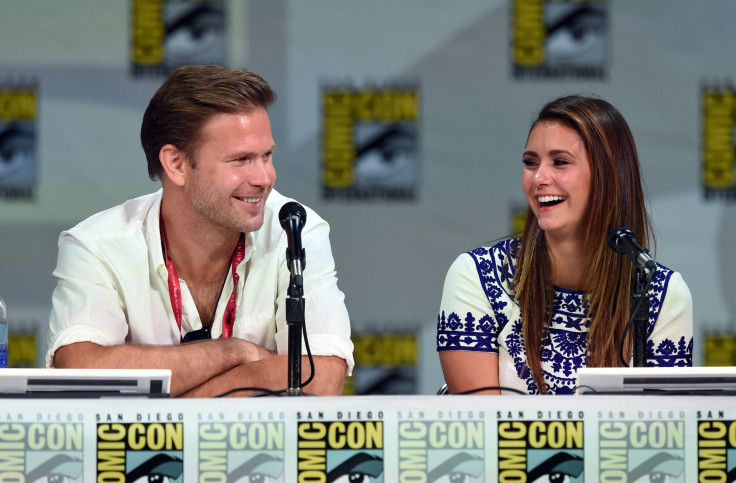 "The Vampire Diaries" often goes dark on screen, but longtime fans know that it's a different story behind-the-scenes. The "TVD" cast loves to laugh, and they are definitely pranksters. They've pulled plenty of tricks on each other in the past. Check out a few of their best pranks below:
The Steroline Sex Scene Prank — Candice King wanted to ease Paul Wesley's nerves during their first love scene on "Vampire Diaries," so she figured the best way to do that would be to put a ton of photos of Ian Somerhalder's face on her bra. Wesley, trying to be a gentleman, refused to look at her chest until several takes in, and then he burst into hysterics. Watch the them tell the story:
The Forwood Sex Scene Prank — King apparently loves to prank her love interests on the CW drama. During another sex scene with Michael Trevino, she put a banana in her pants. Apparently, Trevino felt it but was too polite to actually say anything about it until King finally revealed the prank.
The Pregnancy Test — Nina Dobrev managed to convince the producers that she was secretly pregnant by "accidentally" including them on a freaked out email. While several producers were also scared and didn't know what to do, showrunner Julie Plec knew the second she saw it that Dobrev was pulling a fast one.
Nina's First Last Day — The first time Dobrev left the series at the end of Season 6, the crew got their revenge on the set's most active prankster. The Elena actress didn't realize her final take was fake, and the entire cast and crew interrupted the scene to throw cake and silly string on her.
Ian's Full Moon — In one early episode of "Vampire Diaries," Pictionary was involved. While the camera was on the actors who were shouting out guesses, Somerhalder was showing the cast his rear end.
Ian's Elephant Trunk — Ian's prank on Nina ended up being used in an episode. When Elena accidentally walks in on Damon naked, Nina actually saw Ian, who had elephant ears taped to his legs. Her surprised reaction is what we see on screen.
The Pink Dressing Room — Dobrev's return to "TVD" is short; she'll only be in the series finale. She was filming for less than two weeks, but she still found the time to prank Matt Davis. She painted his dressing room "Pepto Bismol pink" and left a stuffed unicorn as her stamp. Check out her prank HERE.
Sadly, the pranks are over for the "Vampire Diaries" cast. The drama wrapped filming in February, and the series finale will air Friday, March 10 at 8 p.m. EST on The CW.
© Copyright IBTimes 2023. All rights reserved.
FOLLOW MORE IBT NEWS ON THE BELOW CHANNELS