'Vampire Diaries' Season 5 Spoilers: Will Rebekah Return To Mystic Falls? Speculation After Claire Holt Quits Spinoff Series, 'The Originals'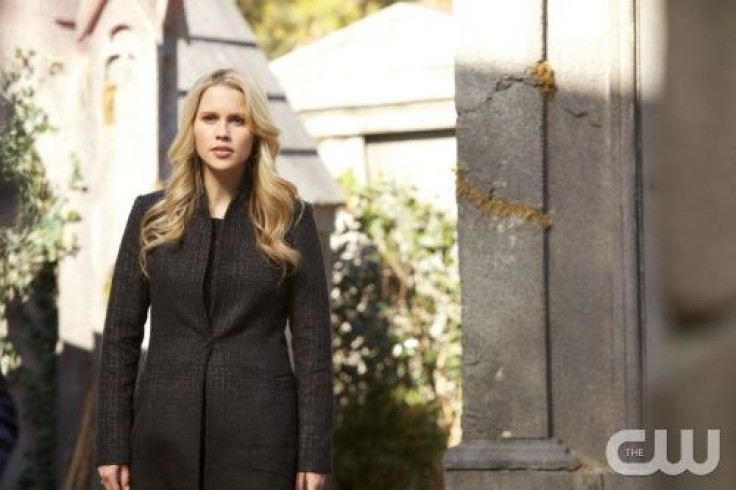 Claire Holt of "The Originals" left the CW show in the middle of its first season. But as fans of the series know, there is only one way to get rid of an Original vampire – a White Oak stake. Holt's character, an Original vampire named Rebekah Mikaelson, wasn't staked, yet fans bid adieu to the character in episode 16 on Tuesday. What does that mean for Rebekah?
For fans who missed the character's last episode, "Farewell To Storyville" showed Klaus graciously sparing his sister's life. Rebekah then left New Orleans in her red convertible after saying goodbye to her loved ones.
The Wrap is reporting that the episode was Holt's last as a "series regular." According to sources close to the production, Rebekah's storyline led her in a direction where the character was no longer needed regularly. But producers reportedly would like the actress to reprise her role as a guest star toward the end of Season 1 or in Season 2.
Holt's sassy blonde character became a fan favorite on "The Vampire Diaries" when she first appeared in Season 3. Initially supposed to be on the hit CW series only for a three-episode arc, Rebekah became a big part of the Mystic Falls gang before the Mikaelson clan got their own show, "The Originals."
Claire Holt's exit has fans upset, yet hopeful that her character might be returning to Mystic Falls. And as "Vampire Diaries" fans know, openings for a powerful female recently opened up with the deaths of Katherine and Nadia in episode 15.
Holt and Julie Plec, the "The Originals" and "Vampire Diaries" executive producer, have briefly addressed her departure.
On Tuesday Holt simply tweeted: "HUGE EPISODE. Please watch. #TheOriginals."
Meanwhile Plec posted: "Just half an hour until the Tribunal of Rebekah Mikaelson. #TheOriginals. You will definitely, positively, not be able to guess how it ends."
If Rebekah did return to "The Vampire Diaries," there are plenty of story lines to fit her into:
Matt's Love Interest
Matt and Rebekah did share something special until she left for New Orleans, and Matt is definitely single right now. The former couple reunited in the special 100th episode of "The Vampire Diaries" when Rebekah saved Matt from being buried alive by Nadia. And with Nadia now out of the picture for good, Rebekah and Matt can try to rekindle their love.
The Travelers
Since Rebekah is an Original vampire she has been around for a long time, which means she may be holding some vital information about the Travelers. Currently the only thing that "Vampire Diaries" fans know about the mysterious group is that they are obsessed with doppelgangers. Since Klaus was also obsessed with doppelgangers, Rebekah may be able to help the Mystic Falls gang out.
Would you like to see Claire Holt's Rebekah return to "The Vampire Diaries"? Take the poll below and send your thoughts to @AmandaTVScoop.
© Copyright IBTimes 2023. All rights reserved.