'Vampire Diaries' Season 6 Spoilers: Damon and Elena Talk Kids In Episode 19 Sneak Peek Video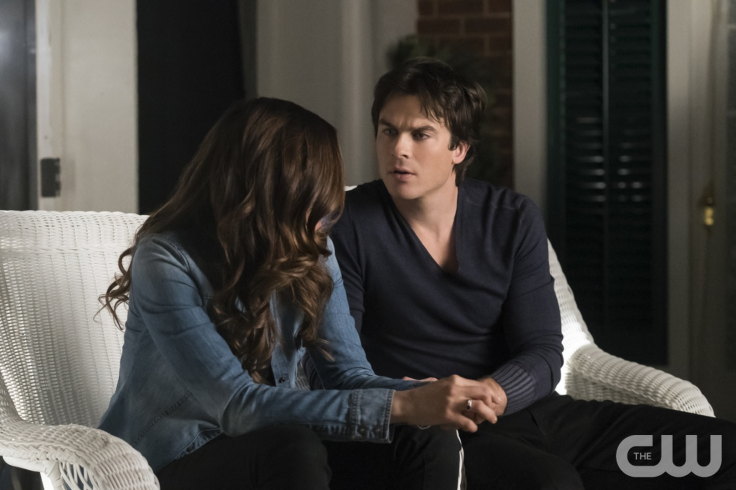 Are babies the next step for Damon and Elena? Unfortunately, that might just be wishful thinking. A sneak peek video from "The Vampire Diaries" Season 6, episode 19 shows Elena (Nina Dobrev) fantasizing about having kids with Damon (Ian Somerhalder). Elena tells Damon that if she were human, she'd want to live in Tribeca over a bar that Damon owns.
"You own the bar, and when you're not working there, you're on our couch, pouring me wine, massaging my feet after a long day in the OR. I'm in the surgical residency program," Elena says.
"Of course you are," Damon says. "Kids?"
"Yeah, eventually. But we should probably have two. You know, so they can keep each other company when we're distracted by other things," Elena says as she goes to kiss Damon.
Watch the sneak peek video from "The Vampire Diaries" Season 6, episode 19 below:
But kids seem unlikely for Damon and Elena. Nina Dobrev only has four episodes left before she makes her exit from the series. As previously reported, Damon's decision to hide the cure for vampirism or give it to her will influence Elena's departure. She may leave town as a human or as a vampire who is very angry with Damon – but that doesn't mean we won't see what her future holds.
Although the series will continue without Dobrev and focus on Damon and Stefan (Paul Wesley), "The Vampire Diaries" Season 6 finale will include a look ahead, so there is a possibility that audiences will see Elena with kids. "The season ends with a flash-forward," executive producer Julie Plec told Entertainment Weekly. "The show's not cut yet, so by the time I'm done with it, it might not, but currently it does."
That flash-forward could include Elena's future and give her a nice little happily-ever-after moment. However, it also could avoid Elena completely. While Delena babies would make us happy, there is a chance Elena might not even be alive by the end of the season finale. Instead, Plec might use the scene to set up next season. If the show decides to jump forward to allow Damon to have a few months to grieve Elena's absence, they'd be able to pick up with the action as soon as Season 7 starts.
"The Vampire Diaries" Season 6 airs Thursdays at 8 p.m. EDT on the CW. Do you think the flash-forward will include Damon and Elena's babies or is that asking for too much? Sound off in the comments section below!
© Copyright IBTimes 2023. All rights reserved.