'Vampire Diaries' Season 6 Spoilers: Where Are Bonnie And Damon? Answer Revealed In Episode 2 [RECAP]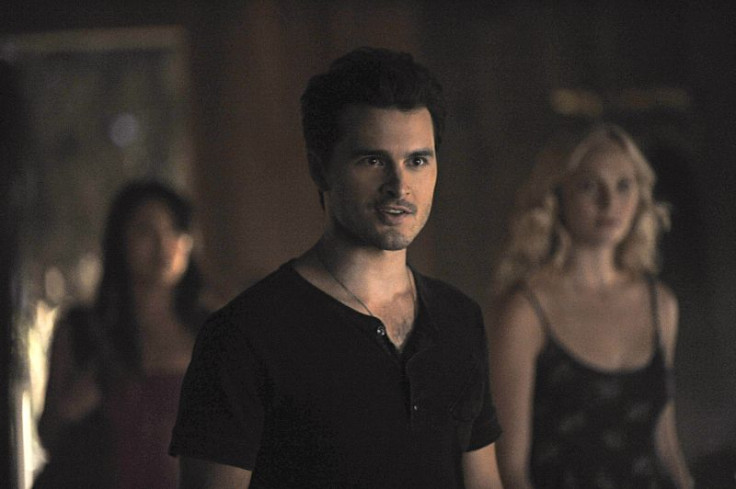 Where in the world are Bonnie (Kat Graham) and Damon (Ian Somerhalder)? "Vampire Diaries" fans finally got their answer in episode 2, "Yellow Ledbetter."
Viewers of the hit CW series will remember that Bonnie and Damon died after the other side crumbled in the Season 5 finale. The Season 6 premiere kicked off with everyone relying on Stefan (Paul Wesley) to follow a lead to bring back their loved ones – however Stefan had misled his Mystic Falls friends. Moving to Savannah, Georgia, Stefan took a job as a mechanic and decided to start his life over. Unfortunately his past caught up with him in episode 2 – and it was revealed that Bonnie and Damon were dealing with their own past issue.
"Yellow Ledbetter" kicked off "four months ago" when Bonnie and Damon first went towards the white light in the Season 5 finale. But they didn't end up going anywhere. When the white light subsided, Bonnie and Damon realized that they were still in the woods – however their friends were all gone. As Damon wisely put it: "Huh."
While being in Mystic Falls was slightly comforting for the pair, they quickly discovered that something was off. The major clue in the mystery being that the Mystic Grill was still standing after Damon had blown it to pieces just an hour before.
"Where the hell are we?" Damon asked Bonnie. "And I don't mean geographically."
"I have no idea," Bonnie replied.
The answer came a short while later when Bonnie and Damon found the Gilbert house, which had burned down the year prior. A newspaper on the ground gave them the date: May 10, 1994.
As the duo hung out on the Gilbert porch, Bonnie explained that her Gran had made a sacrifice so that she could find peace. Even though she still doesn't understand that "peace," Bonnie believes that she took Damon with him when they grasped hands in the final moments. She believes that it's possible for them to return to their friends with magic … however even in this new world she doesn't have magic.
With nothing else to do, Bonnie and Damon moved into the 1994 version of the Salvatore mansion (which featured a very lumpy mattress in Damon's old bedroom). There were mini perks – like Bonnie finding Gran's old grimoire. But there was a new twist. They were living the same day – May 10, 1994 – over and over again. However they weren't alone – someone else was lurking.
Meanwhile in the "real" world, Elena (Nina Dobrev) was relying on Alaric (Matt Davis) to clear her memory of Damon. But Caroline (Candice Accola) wasn't ready to give up on Damon and Bonnie. With Enzo (Michael Malarkey) at her side, Caroline thought that they were following up on a promising new lead. Enzo had other plans though … show Caroline what Stefan has really up to for the past few months.
Needless to say, Caroline was upset to find that Stefan had spent the past few months building a new life for himself … with a new girl named Ivy (Emily C. Chang). But Enzo ended up being more upset – and took it out on Stefan's hand with a fork.
"What kind of coward gives up on his own brother?" he asked Stefan before getting into a brawl with the youngest Salvatore.
Stefan snapped Enzo's neck, but he still had to answer to Caroline. She didn't find it acceptable that he "doesn't care" anymore, however Stefan argued that he followed leads to over 20 countries around the globe before moving on. The last straw for Caroline was discovering that Stefan didn't even listen to any of her voicemails or care to check in on her.
When Enzo awoke he discovered Caroline crying, and went back to settle things with Stefan. Grabbing Ivy when Stefan turned his back, Enzo snapped her neck – killing her. Finally accepting that Damon was never coming back, Enzo promised Stefan that he'd follow through on keeping Damon's promise of providing his brother with an "eternity of misery."
"I will be the one to bring you the misery you deserve," Enzo told Stefan before snapping his neck and walking out.
Thanks to Alaric, Elena was able to beat her eternity of misery. Although she had a hard time naming when she fell in love with Damon, she finally accepted that she fell in love with him while she was still with Stefan.
"It's okay to love them both," Elena told Alaric. "That's what Katherine used to say. How sad is it that my own evil doppelganger was smarter than me."
Elena explained that she fell in love with Damon on her birthday after spending the entire summer searching for Stefan. She was in a bad mood and didn't want to go to a party that Caroline was throwing for her. But Damon turned her night around by gifting her with the necklace that Stefan once gave her. Elena had lost it, and Damon had gave it back to her even though it was the one thing that represented hope for her and Stefan.
Alaric used that information to compel Elena to believe that Damon never gave her the necklace. With that memory gone, Elena remembered all the terrible stuff that Damon did – like snap Jeremy's neck right in front of her.
"Who is Damon Salvatore?" Alaric asked as a test.
"He's Stefan's brother," Elena replied. "He's a monster. And then he died."
As if all that drama wasn't enough for episode 2 of "The Vampire Diaries," Mystic Falls had some of its own jaw droppers. Sarah (Gabrielle Walsh), the girl who Elena attacked in episode 1, began shacking up with Jeremy (Steven R. McQueen) at the Lockwood mansion. Matt (Zach Roerig) kicked her out, but Tripp (Colin Ferguson), the head of the community militia, later called to reveal that something was fishy about her – the car she arrived to town in was stolen.
Sarah passed the stolen car off as an act of revenge on an inappropriate boss, explaining that she came to town to find her father. But that wasn't the biggest family shocker of the evening. Tripp's identity was exposed – he's Thomas Vincent Fell III … a member of the Mystic Falls founding families.
Matt immediately questioned what being a founding family meant to him, and Tripp brushed off the question. However episode 2 of "The Vampire Diaries" concluded with Tripp driving a van full of vampires to their death.
FOR FREE to continue reading
✔️ Unlock the full content of International Business Times UK for free
offer available for a limited time only
✔️ Easily manage your Newsletters subscriptions and save your favourite articles
✔️ No payment method required
Already have an account?
Log in
© Copyright IBTimes 2023. All rights reserved.