'Vampire Diaries' Season 6 Spoilers: Will Damon And Elena Have A Holiday Reunion? New Details About Christmas Episode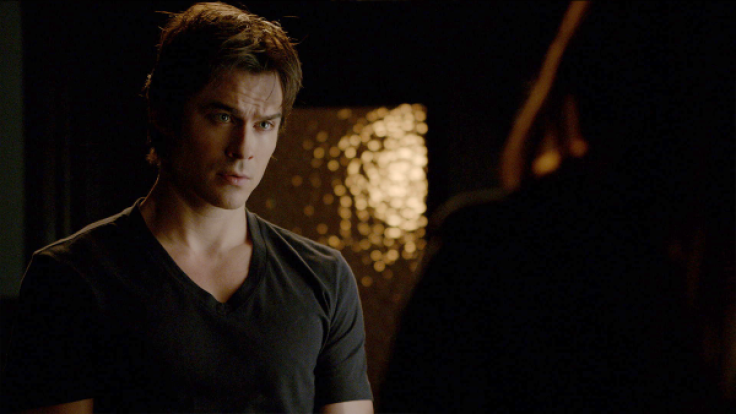 "The Vampire Diaries" Season 6 has been frustrating for Delena shippers, but they might get an early present in the Christmas episode. Damon (Ian Somerhalder) and Elena (Nina Dobrev) were separated for the first part of the season, and Damon returned to the land of the living only to find that Elena had erased all good memories of him. Finally, Elena wants her memory back, but now Damon is back to thinking that she is better off without him. Luckily, it looks like the writers are finally giving Delena fans some good news.
Granted, the writers did give viewers a nice flashback with that kiss in the rain, but it definitely doesn't make up for their separation — unless Damon and Elena are getting back together. "Vampire Diaries" Season 6, episode 10 is the Christmas episode, and we might see Damon and Elena sharing some holiday love.
"There may be some hanging mistletoe in Damon and Elena's future," showrunner Julie Plec told E! Online. "Whether or not they kiss underneath it remains to be seen."
Even if they do kiss, they probably won't be back together just yet -- after all, Damon and Elena have never had an easy relationship. While it would be a nice Christmas present, holidays on "The Vampire Diaries" aren't generally sweet and happy. In fact, holidays get really violent for the vampires.
This will be the second Christmas episode of "The Vampire Diaries," and judging from the first one, the holiday might get messy. The Season 4 Christmas episode was a bloodbath. Klaus (Joseph Morgan) massacred 12 hybrids and Tyler's mom. Hopefully, this Christmas will be less violent, and it looks like it'll also pull at the heartstrings.
A short synopsis for the episode, titled "Christmas Through Your Eyes," teases that Bonnie will be trying to mimic all of her old holiday traditions "while reminiscing about happier times." It doesn't say if she is in 2014 or 1994, but she'd probably be celebrating with her friends if she found a way out of the past. Damon and Elena are suspiciously missing from the description, so we can only hope that they have a happier holiday.
"The Vampire Diaries" Season 6, episode 10 will air Thursday, Dec. 11, at 8 p.m. EST on the CW. Do you think Damon and Elena will get back together by Christmas? Sound off in the comments section below!
© Copyright IBTimes 2023. All rights reserved.