'Vampire Diaries' Season 7 Spoilers: Will Nina Dobrev's Exit Hurt Or Help The Show? Cast Reveals True Feelings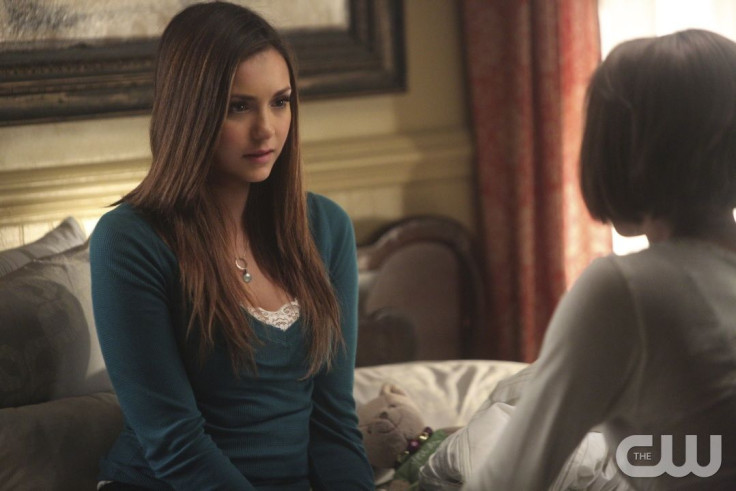 "The Vampire Diaries" Season 7 is going to be very different without its leading lady. When Nina Dobrev decided to leave the CW drama, it drastically altered the course of the supernatural series. However, her cast members are optimistic that Elena's coma will bring a necessary change to the show.
Paul Wesley played Elena's love interest, Stefan, throughout the first few years of the series, but he seems more than happy to be ditching the old love triangle and moving on. He believes it might help the show stay exciting. "When a show has been on for seven years, you need a shift in dynamic," he said during the show's San Diego Comic-Con panel on Sunday. "And I think it created a new sort of world in a way. So I think it's a fresh take on a show that's been on for over half a decade."
Kat Graham added that there is still a mystery behind Elena in "The Vampire Diaries" Season 7. Audiences don't know when or if she'll return. "I thought it was a really clever way to kind of keep Elena there and keep her presence there and keep the door open for a lot of ways for her to be able to come back," Graham added.
Graham isn't alone there. Candice Accola also hinted that Dobrev's exit doesn't have to be permanent, and the mystery around a possible return is typical for "The Vampire Diaries." "I think that's what's fun about this series. You never know when characters are going to leave, you never know when they're going to come back," Accola explained to MTV. "That's been a constant for six seasons, now. So the fact that, for such a big departure, that it is left open-ended, is really true to the show."
It's Damon (Ian Somerhalder) whose storyline will change the most, but like his on-screen brother, he thinks that Dobrev's exit will just help move the story along. "She's just taking a little nap. … It's just an evolution of the story," Somerhalder said at the panel. "This is Mystic Falls without Elena Gilbert."
However, showrunner Julie Plec revealed that his character will have a sort of identity crisis without the love of his life. "The challenge for Damon is obviously Elena said to him, 'Please live your life and be who you are,'" Plec explained. "And yet we know who Damon is. So for him, it's 'Who am I without this girl right by my side?' … We'll get to see a lot of naughty Damon trying not to be naughty."
At her Nerd HQ panel, Plec added that she felt the way Elena was written out was the best decision for all of the characters. The "sleeping beauty curse" was actually the easiest way to allow most of the characters to get over her exit quickly. "It keeps her alive in our universe and it keeps something for the Damon character to hope for," Plec explained. "But also lets our characters move on and live their lives and not have to spend this next year and a half of their show lives mourning this person. They can, at her wish, get on with their lives and be happy, so we felt good about it."
Without Elena, there will be more time for Stefan and Caroline's romance, Bonnie and Damon's friendship and new characters' relationships. Fans will get to decide for themselves if that's a good thing when "The Vampire Diaries" returns.
"The Vampire Diaries" Season 7 premieres Thursday, Oct. 8, at 8 p.m. EDT on the CW. Do you think Nina Dobrev's exit will help or hurt the show? Sound off in the comments section below!
© Copyright IBTimes 2023. All rights reserved.
FOLLOW MORE IBT NEWS ON THE BELOW CHANNELS