Van Halen Rocks 'South Park' With Message of Peace; Judaism, Islam, Christianity Symbols Morph Into VH Logo During Jerusalem Concert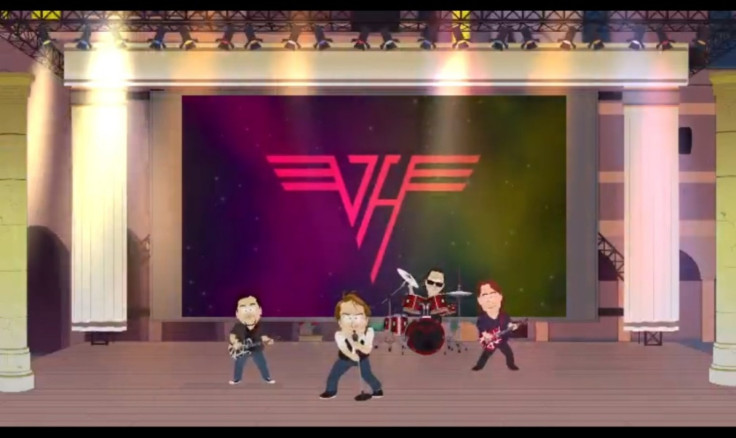 Van Halen doesn't fart or take Rital-out on a recent episode of "South Park," but they do rock hard and heavy for world peace in Jerusalem.
During the episode, titled "Ginger Cow," religious leaders congregate in the holy city to settle their differences. Eventually, a rabbi announces to a massive crowd, "Let us celebrate, under one symbol." As Van Halen's gig begins, the symbols for Judaism, Islam and Christianity appear on a big screen onstage; suddenly, they morph into one single, familiar logo. The iconic band's "VH" logo becomes a symbol of coexistence.
As the iconic opening chords of "Ain't Talkin' 'Bout Love," from VH's landmark debut, are amplified over the PA, a cartoon version of guitar diety Eddie Van Halen steps onstage with his signature red-striped EVH ax. He's followed by his bandmates, including frontman David Lee Roth, who exclaims "Hellooo Israel!" Dave, Eddie, drummer Alex Van Halen and bassist Wolfgang Van Halen (Eddie's son) rip through the stirring tune, with Eddie's guitar work front and center (no wonder he's featured in Rolling Stone's 100 Greatest Guitarists). And all of a sudden, the sea of multi-faith head-bangers converging in a frothing frenzy of music appreciation seems less divided than usual.
While yarmulkes and hijabs bob in unison, a cartoon newsman is there on the scene. "The party is officially underway!" he says. "Jews, Christians and Muslims have united, ushering in 10 Years of Van Halen! Out in the crowd, people are celebrating like never before! No doubt Israel is the happiest, rockinest place to be." Amen.
Later on, to the continued delight of the crowd, the Weeble-like version of Van Halen performs "Hot For Teacher," from the huge-selling "1984" album (Talk about a religious experience ...).
To view the complete "Ginger Cow" episode of "South Park," featuring Van Halen, click here.
Van Halen's appearance on the episode is hardly the first time a music sensation has lit up "South Park." In fact, a plethora of singers, rappers, instrumentalists and producers have appeared on Trey Parker and Matt Stone's outrageous show, according to Vulture.com. They include:
Justin Bieber, Blink-182, Bono, Jimmy Buffett, John Cena (yes, the pro wrestler has recorded rap music), Phil Collins, Neil Diamond, Diddy, Ronnie James Dio, Philip Glass, James Hetfield of Metallica, Faith Hill, Enrique Iglesias, Alan Jackson, Michael Jackson, Rick James, Elton John, the Jonas Brothers, R Kelly, Lil' Kim, Korn, Geddy Lee of Ruth, Jennifer Lopez, Sarah McLachlan, Meat Loaf, Liza Minelli, Alanas Morrissette, Randy Newman, Stevie Nicks, Yoko Ono, Master P, Radiohead, Rancid, Frank Sinatra, Biggie Smalls, Robert Smith of the Cure, Will Smith, Snoop Dogg, Stephen Sonheim, Britney Spears, Rod Stewart, Barbara Streisand, Joe Strummer, Taylor Swift, James Taylor, Lars Ulrich of Metallica, Andrew Loyd Webber, Ween, Kanye West and Wing (the Hong Kong-born singer who lives in New Zealand; see clip here).
Van Halen released their 12th album, "A Different Kind of Truth," in 2012; it was David Lee Roth's first album with Van Halen since leaving the group 28 years earlier as well as Wolfgang Van Halen's first-ever album with the band. And while it was no, say, "Women and Children First," it was certainly an impressive comeback. Mazel tov, Van Halen.
© Copyright IBTimes 2023. All rights reserved.