Victoria's Secret Fashion Show 2011: How-To Tips for Supermodel Hair + Make-up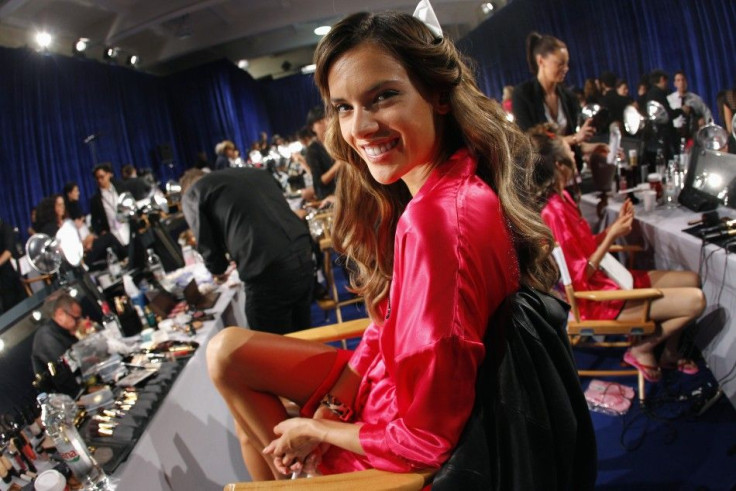 The Victoria's Secret Fashion Show 2011 aired Tuesday Nov. 29 on CBS and the world watched as a bevy of beautiful Angels sashayed down the runway in scintillating lingerie. But it was not only the outfits that made heads turn.
The models looked absolutely breathtaking with soft waves and dewy make-up. According to the brand, the total beauty look for the 2011 show was natural, feminine and glowing -- fit for an angel.
InStyle.com and Into the Gloss headed behind the scenes at the fashion show on Nov. 9 to find out all the how-to's for hair and beauty. The style publications spoke to hairstylist Orlando Pita, beauty expert Lauren Cosenza and make-up artist Tom Pecheux to find out all the gritty little details in the making of an Angel.
Hair
This year, the hair was not as voluminous and bouffant-esque as it has been in the past.
In the past, we always did loads of volume and really sexy waves, but our curls this year are more dimensional, VS beauty expert Lauren Cosenza told InStyle.com.
Forty cans of So Sexy Style Hold & Finish Hairspray ($14; victoriassecret.com) were used on the Angels' hair to get soft, romantic waves. Hairstylist Orlando Pita was behind the locks.
There's definitely a technique to doing the hair, and making it look so simple and undone, he said.
To do it yourself, curl hair with a 1-inch or 1 1/4-inch barrel curling iron. Turn the iron outward as you curl for a more romantic look.
Pita used a volumizing spray to set the models' hair before styling. I turned the curling iron in different directions, but it's harder to do on your own hair. You might burn yourself! he said.
The Brilliant & Glossy Shine Mist ($14;victoriassecret.com) was used on all the girls' hair, Cosenza said. The product actually enhances waves, so you can apply it to damp hair to bring out its natural texture.
Body
Inspiration behind the look this year? The inspiration for the makeup this year was to transform the girls into angels, said Cosenza. I wanted to make them into the iconic Victoria's Secret Angels, while still keeping the show exciting and dynamic.
For glowing skin, the models applied lotion and bronzing gel. They used a total of 40 bottles of the Victoria's Secret Angel Body Lotion ($20; victoriassecret.com).
Every girl wore the new Victoria's Secret Angel Body Lotion, Cosenza told InStyle.com. We wanted their skin to look fresh and lush from head to toe.
We used the Bronze Shimmer Body Powder ($12; victoriassecret.com) to contour down the shin, the center of the leg, on the collarbone, and on the shoulder to amp up definition, she added. When you're on the runway, and lights are coming from every angle, the extra definition powder gives makes the body look sculpted and beautiful.
To bring color and warmth to the skin, they used the Flawless Airbrush Instant body Spray ($12; victoriassecret.com). It is not a self-tanner but it gives the skin a beautiful bronze sheen to even out tone.
Face
Make-up artist Tom Pecheux put his foot down for the 2011 Victoria's Secret Fashion Show. He mandated that the VS models look as true to themselves as possible.
Enough with the false lashes, he told Into the Gloss. We used to do a lot of fakeness: false lashes, fake tan, blah, blah, blah. This year we kill everything. No more fakeness. You know, these girls are amazing and unique-they don't want to all look the same.
Into the Gloss caught up with the artist to find out exactly how to recreate the Angel look.
First, you must prime the face. You have to start with this-Rodin Olio Lusso. After you wash your face, apply only a few drops, and pleaseyour skin. Normally at a fashion show we are in a rush, but at Victoria's Secret, we start at 10 AM-we have the time to massage the face, to love the face. You have to love your skin. The skin will give it back to you, Pecheux said.
He suggests applying DayWear moisturizer by Estee Launder over that. Then use Estee Lauder Idealist Illuminator, which will smooth the skin and control shine.
Next is foundation. Pecheux recommends Estee Lauder, Kett or Victoria's Secret depending on the skin tone. Bronzer is a must and Victoria's Secret Glitterati is the best.
I mix things-I want to avoid the layer on layer. So I'm grabbing a bit of loose powder on my brush and I'm grabbing a bit of the bronzer and I first squeeze the mix together on the open lid of the bronzer compact, he said. And like that, it will magnify. Because if you just do the loose powder, and after you put on the bronzer, it's too heavy with two layers of powder.
He then applies VS blush in Starlet. Mixing this with the bronzer will create a bronzed/rosy cheek.
For the eyes, Pecheux emphasizes powdering before applying eyeliner.
Since we're using an eyeliner, make sure that your eyelid is very well powdered. So try to avoid, when you do all your skin treatment, try to avoid any cream and any oil there. You want to make sure your eyelid is very dry before you put your eyeliner. If not, you will sweat and the eyeliner will transfer, he said.
He suggests using a liquid liner, such as VS Brilliant Glitter Liquid Liner, complemented by lots of mascara.
For the lips, the make-up extraordinaire uses VS Perfect Lipstick in Whisper, topped off with VS Lip Gloss in Sublime.
There you have it! You will be looking like an Angel in no time. And, for those daring enough, rhinestone-accented lingerie is available at your local Victoria's Secret.
© Copyright IBTimes 2022. All rights reserved.
FOLLOW MORE IBT NEWS ON THE BELOW CHANNELS