VIDEO Arsenal 1-0 QPR Highlights: Walcott's Goal Puts Gunners In Third, For Now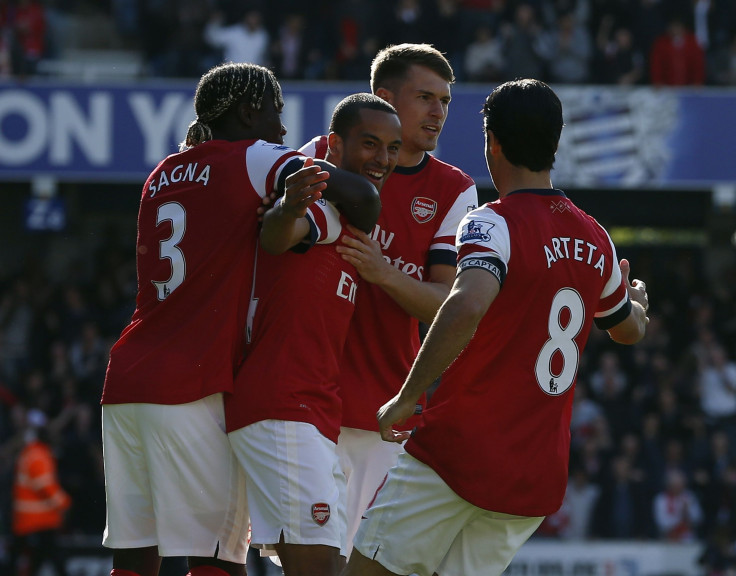 Theo Walcott continued to make his case to be the focal point of Arsenal's attack Saturday, netting the match's only goal in the Gunners 1-0 victory over soon-to-be relegated Queens Park Rangers at Loftus Road.
Arsenal are now third on the Premier League table, though they have played two more games than Chelsea and one more than Tottenham.
The 24-year-old fired off his 13th goal of the season within the first minute of play, and Arsenal coasted for much of the rest of the match.
Before QPR could find their footing, midfielder Mikel Areta fed a through ball past the Rangers back line and Walcott did the rest, slipping a shot past goalkeeper Robert Green.
Earlier in the week, Walcott lobbied manager Arsene Wenger for the center forward position, but Lukas Podolski was instead tapped for the role. Wenger did concede Walcott and Podolski were the best finishers on the club, though Olivier Giroud may have something to say about that once he returns from suspension.
Their fate for Championship already decided, Rangers managed seven shots in the first half, but with only one on target. Arsenal held a 59-41 possession advantage and took three more shots on target than QPR.
Tottenham defeated Southampton with a late strike from Gareth Bale to keep the fight for a place in Champions League still alive for Spurs. Chelsea meet Manchester United at Old Trafford on Sunday.
Arsenal end the season with matches against Wigan and Newcastle.
QPR 0-1 Arsenal (Gol de Walcott) PREMIER LEAGUE by DaniDV
© Copyright IBTimes 2023. All rights reserved.