VIDEO Chelsea 2-0 Arsenal: Highlights, Goals; Costa And Hazard Give Blues Win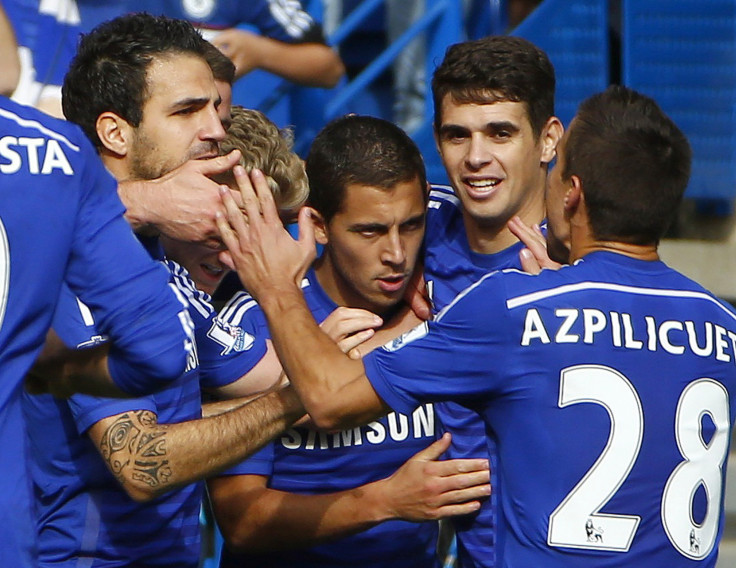 There was no repeat of last season's 6-0 humiliation, but Chelsea continued to have the edge over London rivals Arsenal thanks to a goal in each half from Eden Hazard and Diego Costa at Stamford Bridge on a day that the long-simmering feud between Jose Mourinho and Arsene Wenger turned physical. Wary of another away-day disaster, Arsenal were much more considered in their approach, helping create a game where genuine chances were thin on the ground. It took a piece of brilliance from Hazard to break the deadlock, as he accelerated past two Arsenal defenders before being brought down by Laurent Koscielny in the box. The Belgian converted from the spot and then with Chelsea sitting back and frustrating Arsenal's attempts to get back on level terms, the hosts struck with a classic quick-strike goal. Former Gunner Cesc Fabregas found Costa over the top and the Spain striker did the rest for his ninth goal in seven Premier League appearances.
It became something of a routine win for Chelsea in a game that will undoubtedly be remembered most for Wenger shoving his Chelsea counterpart on the sidelines after an ugly challenge from Gary Cahill. Wenger's men certainly put up more of a fight, too, but it will be little compensation for coming up short once more and, crucially, falling nine points behind Chelsea. Even at such an early stage of the season, that presents a massive hurdle to overcome if they are to end their already 10-year wait for a Premier League title.
Meanwhile, Chelsea march on with ruthless efficiency. This wasn't as spectacular a display from the men in Blue as when demolishing Arsenal in the same fixture last season, but the end result was the same. The individual brilliance of Hazard, now coupled with the creativity of Fabregas and goal-scoring instincts of Costa give Chelsea a consistently incisive threat that their opponents, for all their possession, were sorely lacking.
The encounter was delayed by 15 minutes due to fans letting off flares inside the stadium before kickoff. And there were plenty of sparks on and off the pitch in first half. Cahill's challenge on Alexis Sanchez was high, two-footed and should have brought a red rather than a yellow card from the pocket of referee Martin Atkinson. The aftermath of the incident brought Wenger out of his technical area and into Mourinho's territory. After years of exchanging pointed remarks in each other's direction, including Wenger being labeled a "specialist in failure" last season by his Chelsea counterpart, the Frenchman's frustration spilled over when he twice shoved Mourinho.
Taking it in his stride, soon Mourinho was having to make an unwanted chance and send on Petr Cech. Courtois had been left dazed and flat on his back after Sanchez's knee struck him in the side of the head in the ninth minute. Yet in another worrying indictment of the handling of head injuries, the goalkeeper was allowed to play on. Less than 15 minutes later he was down again, this time with blood emerging from his ear. Forget the Wenger and Mourinho spat, this was the incident that brought the game into disrepute.
There was soon a moment from Chelsea of a much more positive nature. Hazard picked up the ball in midfield and showed once again his devastating turn of pace, coupled with brilliant close control to soar past first Santi Cazorla and then Calum Chambers before Koscielny did the only thing he could to prevent the winger getting through on goal. Chelsea got the penalty they wanted but not the red card, with the Arsenal defender fortunate to escape with just a caution. But Hazard picked himself up to ensure further punishment was forthcoming by sending Wojciech Szczesny the wrong way.
Arsenal had more solidity in their midfield than last season's collapse thanks to Wenger continuing to play with three men in central midfield. But, having failed to sign a commanding midfielder in the summer and with Mikel Arteta and Aaron Ramsey out injured, the identity of those asked to play the role was a problem perfectly encapsulated by the ease in which Cazorla was bypassed by Hazard.
Chelsea also had a central midfielder more adept at getting forward than defending in Fabregas. The former Arsenal captain's presence alongside Nemanja Matic means Chelsea have looked more open than in the second half of last season. And that was the case in the first half on Sunday, too. On more than one occasion, Arsenal threatened to take advantage with their pace on the break, but, unlike against Galatasaray, they lacked the precision in attack. At the start of the second half, Arsenal enjoyed a spell of dominating possession, yet they now encountered a Chelsea team only too happy to sit back and keep things tight. And the visitors failed to produce a single shot on target throughout the 90 minutes, with the best they could muster being a shot wide from the edge of the box by Cazorla.
It was Chelsea, who went further into their counter-attacking formula when John Mikel Obi came on with 20 minutes remaining, who carried the greater threat. Hazard had outstripped Chambers again before his cross was almost turned into his own net by Koscielny, but for a touch onto the post from Szczesny. And the star of the show went close again when taking Costa's pass inside but firing over the crossbar. There was a sense of inevitability when Chelsea did pounce on an Arsenal team forced to push forward in search of an elusive equalizer. Fabregas had time to look up from just inside his own half and strike a glorious pass forward that found Costa running in between Arsenal's advanced center-backs. Costa's chest control appeared to give Szczesny the invitation to intercept, but, having been sent off in midweek, this time he hung back and the Chelsea striker delightfully lofted the ball over him and into the net.
The game was up and Arsenal had been beaten by a more astute team yet again. Their frustration boiled over in injury time with Danny Welbeck becoming another player lucky to stay on the pitch following a reckless lunge on Fabregas.
Highlights & All goals ~ Chelsea 2-0 Arsenal 05...by KDcope
© Copyright IBTimes 2023. All rights reserved.