VIDEO Chelsea 3-1 FC Basel Highlights: Blues Advance With Second Half Flurry In Europa League Leg 2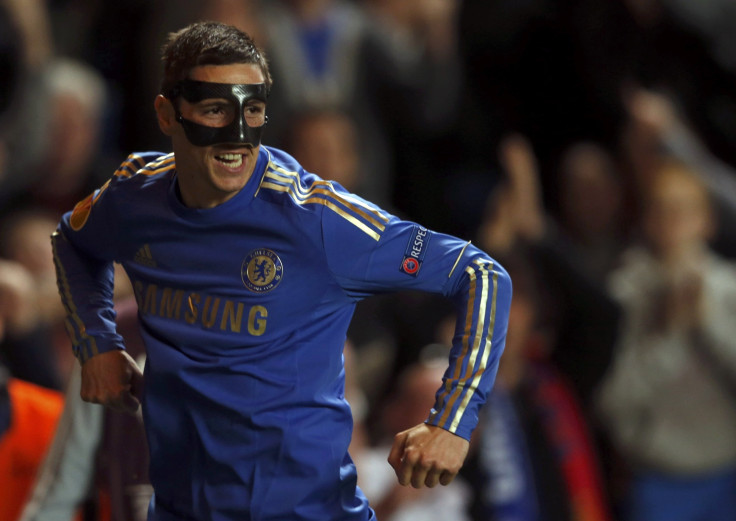 Stringing together three second-half goals in nine minutes of play propelled Chelsea to a 3-1 victory over FC Basel at Stamford Bridge on Thursday in the second leg of the Europa League semifinal.
Chelsea will face Benfica in the Amsterdam final. The Blues advanced with a 5-2 aggregate victory thanks to goals from Fernando Torres in the 50th, Victor Moses in the 52nd, and David Luiz in the 59th.
Basel took an early 1-0 lead in the final moments of the first half off after midfielder Valentin Stocker intercepted a Chelsea pass and found Mohamed Salah slipping past the offside trap for the strike.
Chelsea held the possession lead in the first half, but couldn't muster any goals with the advantage until Torres broke through with the equalizer off a rebound from Frank Lampard's shot.
Later in the 59th, Lampard contributed to another goal after Luiz accepted his pass from well outside the penalty box and struck a curling ball that goalkeeper Yann Sommer had no chance to defend.
The Brazilian scored against Basel in the first leg with the final kick of the match. The second-leg goal gave the Blues a 5-2 advantage on aggregate.
Moses gave Chelsea a lead they would never relinquish after barreling through the Basel backline, recovering his own blocked shot, and completing a score in front of the net.
The highlights for the match can be viewed below.
Chelsea - Basel, Salah Goal (0-1), 02.04.2013. by mrkrunimir-10
Chelsea 1-1 Basilea (Gol de Torres) UEFA EUROPA... by DaniDV
Chelsea 2-1 Basilea (Gol de Moses) UEFA EUROPA... by DaniDV
Chelsea 3-1 Basilea (Gol de David Luiz) UEFA... by DaniDV
© Copyright IBTimes 2023. All rights reserved.