VIDEO: How Did Trump And Macron's Latest Handshake In France Go?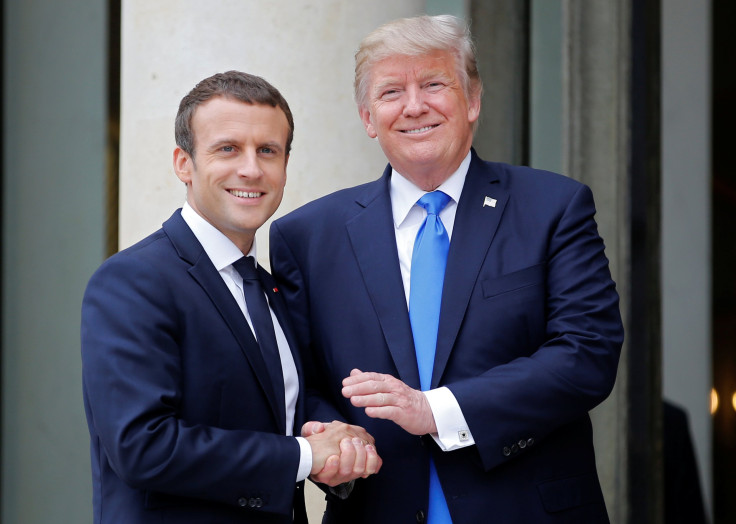 President Donald Trump and newly-elected French President Emmanuel Macron held a joint press conference Tuesday during which they expressed diplomatic sentiment for the two countries working together.
At the end of their remarks, the world leaders shook hands. It was mostly amiable and certainly far less strained than public interactions between the two in the past. Trump did, however, pause during his remarks at one point to touch Marcon's arm, a gesture to which the French president did not appear to respond.
The two leaders are an unlikely pair.
Trump in the past has expressed admiration for Macron's far-right opponent Marine Le Pen. The American president also snubbed France and the world when he pulled out of the Paris Climate Accord. Macron retaliated with an invitation to American scientists continue their climate research in France.
"Make our planet great again," said Macron in a video.
READ: Macron Assassination Plot Foiled, As French President Calls For End Of State Of Emergency
There was also the awkward handshake during their first meeting in May. Macron geared up for Trump's notoriously aggressive handshakes, and when they met Thursday, Macron grabbed Trump's hand tightly and didn't let go — an apparent power play. Macron said the handshake "wasn't innocent."
Trump has alienated the U.S. from several key relationships in Europe, notably Germany, but Macron decided to offer Trump an invitation to Paris. Trump, took him up on it, surprising some.
Trump is in Europe for the second time in a week. He had traveled to Poland and then Germany for the G20 summit. The trip comes in the middle of a new breaking scandal in the ongoing controversy of Trump's connections to Russia.
His eldest son, Donald Trump Jr., released emails this week in which he enthusiastically agreed to take dirt on Hillary Clinton during the 2016 presidential election, despite the information seemingly coming from the Russian government's effort to help his father. Trump Jr. then took a meeting in June 2016 with a Kremlin-connected lawyer and brought along Paul Manafort, who at the time was running Trump's campaign, and Jarred Kushner, Trump's son-in-law and current presidential advisor.
READ: Emmanuel Macron, Trump Feud: French President Trolls With Make Our Planet Great Again Website
The president defended his son on Twitter but has not appeared in front of media to publicly address the scandal. White House press briefings have been entirely off-air this week. It remains to be seen how cagey Trump will be when he takes questions for the first time since the news broke at a noon press conference with Macron. The president's counselor, Kellyanne Conway, has been making the rounds on cable television attempting to throw water on the story.
Trump Jr.'s email revelation, uncovered by New York Times reporting, kicks more dust into the air of a swirl of investigations. The Intelligence Committee of both the House and Congress are investigating connections between the Trump administration and campaign and Russia. The Justice Department appointed special counselor Robert Mueller to investigate the Trump administration.
© Copyright IBTimes 2023. All rights reserved.