VIDEO Manchester United 1-0 Arsenal: Highlights; Van Persie Goal Gives United Crucial Premier League Victory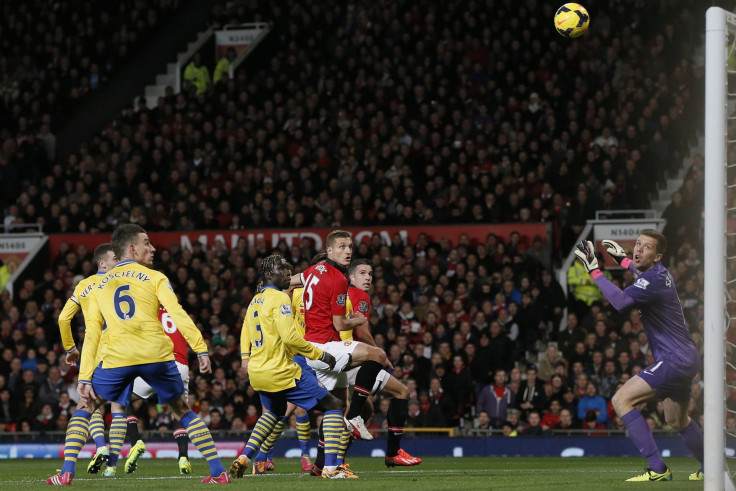 David Moyes got his first big win as Manchester United boss and inflicted a first significant blow to Arsenal's Premier League title aspersions with a 1-0 win for the champions at Old Trafford. Having been taunted by Arsenal fans who questioned the validity of his decision to move between clubs given their current predicaments, fittingly it was Robin van Persie who grabbed the game's only goal in the first half to redress the power shift between these two English giants in the early part of the season.
Having failed to come out on top against either Chelsea, Liverpool or Manchester City, it was vital for Moyes to inspire a performance from his men this time around. Even at this early stage, the prospect of falling 11 points behind Arsenal was not one he will have been eager to countenance. Now with just a five-point difference, the situation suddenly looks very different -- for both clubs.
In the latest installment of one of the defining rivalries of the Premier League era, it was United who rose to the occasion, while Arsenal were subdued by it. It was a victory based largely on the sheer industry of United's play. Spurred on by a passionate support inside Old Trafford, Untied played with an intensity and commitment to the team's cause that Arsenal simply failed to match.
For Arsenal, there may well have been something of a hangover from what was arguably their most impressive performance of the campaign to date in winning away at Borussia Dortmund in midweek. It was a rash of illness that struck a blow to Arsenal before kickoff with Per Mertesacker and Tomas Rosicky being ruled out. It is hard to think, though, that either would have made a significant difference to the match's outcome. The tone was set from early on as the visitors were all-too happy to sit back and invite United on to them. Unsurprisingly it only helped to inspire confidence in their opponents.
In truth, going forward, there wasn't a lot different from United than the largely predictable approach that has been seen often this season. United's performance was perhaps summed up by best by Shinji Kagawa, who, for all his creative talents, impressed more with his discipline without the ball than what he did with it at his feet. Again crosses into the box were United's main attacking weapon. And it was a delivery from a set-piece that provided the only goal of the game.
In the 27th minute, Wayne Rooney, who moments earlier had swung in a dangerous free-kick, this time was right on the mark with a corner. His delivery was whipped into the near post and Van Persie's run was unchecked, allowing him to get above Olivier Giroud and produce a fine glancing header into the far corner. The Dutchman didn't hold back in celebrating his third goal in as many games against his former club.
Still Arsenal continued to lack the intensity of their opponents, while there was a distinct lack of accuracy and incisiveness with their passing. That the nearest the visitors came to a breakthrough in the opening half was a Giroud header that soared over the bar said much more about their lack of attacking progress than the quality of the opportunity.
United's defense suffered a blow at the break with Nemanja Vidic having to go off after suffering as blow to the head and Phil Jones dropping into the back four as Tom Cleverley came into midfield. And Arsenal finally awoke somewhat from their slumber in the second half and began to put pressure on the home side, helped by Arsene Wenger making increasingly attacking substitutions as Jack Wilshere, Nicklas Bendtner and Serge Gnabry came off the bench. Still, they created precious little. The usual sharpness just wasn't there in the final third. Mesut Ozil fired an effort into the outside of the side netting at the near post, while Giroud had a shot deflected wide.
Indeed, the clearest chances of the second half fell to United. On the hour mark, the ball fell to Rooney just outside the box and the forward who epitomized his side's work rate throughout did brilliantly initially to feint past Bacary Sagna but with the goal at his mercy he dragged his left-footed shot wide of the far post. Moyes watched on with anguish on the sidelines ad will have been fretting too when another opportunity went begging too as Chris went for a header six yards out, but failed to make clean contact.
Ultimately, United would not need the extra security of a second goal. Bendtner missed the chance to gain his side a point and earn back some favor from the Arsenal supporters when he just failed to get a touch to a teasing ball right across the face of goal in injury time.
Manchester United vs Arsenalby Oleeh-1
© Copyright IBTimes 2023. All rights reserved.