VIDEO Manchester United 2-2 Fulham: Highlights; Late Bent Goal Pours Further Misery On Moyes's Reign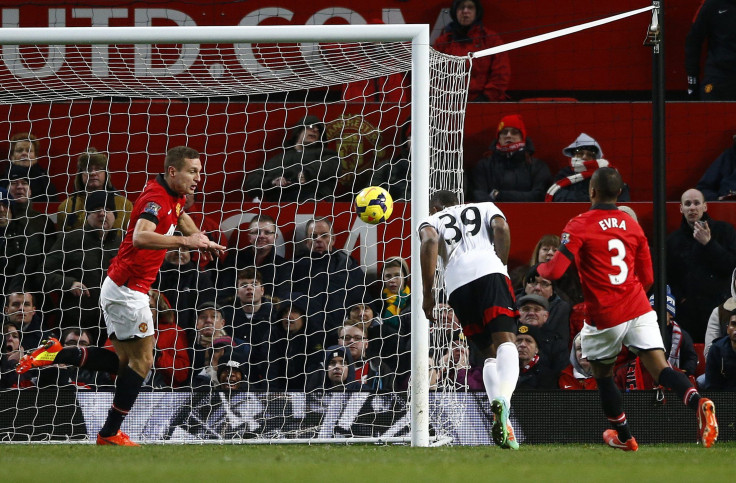 Darren Bent scored a dramatic injury-time equalizer to thwart Manchester United's late salvo and pour further misery on David Moyes's Old Trafford reign.
United dominated the entire match against the side bottom in the Premier League table, but went behind through Steve Sidwell's first-half effort and toiled in vain with startlingly little imagination to try and find an equalizer. They finally broke Fulham's increasingly desperate resistance 12 minutes from time when Robin van Persie finished from close range. When Michael Carrick's effort deflected in off Scott Parker two minutes later, the relief of a victory appeared secured. Instead in the fourth minute of injury time United's defense capitulated and Bent headed home in front of a stunned Old Trafford.
For all United's domination, it's hard not to see the result as a just one. While showing little interest in attacking, Fulham created three clear-cut chances, while they also held on manfully for long spells. For United, this was the second time in which he had the dream trio of Van Persie, Wayne Rooney and Juan Mata starting in tandem, yet their tactics remained startlingly rudimentary. An incredible 81 crosses were heaped into the Fulham box during the 90 minutes, emphasizing the lack of imagination in Moyes' approach, despite the talent at his disposal in the final third.
Even had United claimed the three points, it would have been difficult to take encouragement from the performance going forward in their efforts to close down the gap to the final Champions League. As it is, with nine points separating United from fourth-placed Liverpool, it would take the most optimistic of supporters to believe that, what would have been seen as a bare minimum target at the start of the campaign, remains within their reach.
The pattern of the match was established from the off. Fulham were sitting incredibly deep, happy to allow United to dominate possession, which they predictably did. The home side's initial labored pace increased, but their attacking continued to be predictable and play into the hands of a Fulham side flooding their own penalty area.
Having previously shown little ambition to go forward, there was a sense of amazement then when Fulham took the lead in the 19th minute. Having not been closed down, Lewis Holtby, who could prove to be a priceless loan capture from Tottenham, displayed his fine eye for a pass with a wonderful chip over a static United defense. With Darren Fletcher failing to track the run of Sidwell, the midfielder met Holtby's pass with a fine volley on the stretch past David de Gea.
United's tactics were unaltered and if anything their eagerness to cross the ball into the box at every opportunity became even more pronounced. Unsurprisingly it was one of the incredible 46 crosses in the opening half that led to United's best chance. Rafael produced a superb delivery to the back post where Van Persie arrived two yards out for what should have been a simple finish on the volley that he somehow put high and wide.
Maarten Stekelenburg was also providing a valuable last line of defense for Fulham. The Dutchman saved well from Carrick before holding onto a Nemanja Vidic header from the resulting corner. But it was Fulham that could and should have been 2-0 up by the interval. From a United corner, Fulham streamed up field through young striker Muamer Tankovic, who bided his time before laying it to his left for the onrushing Kieran Richardson but the former United man skied his glorious opportunity over the bar.
The second half continued in much the same manner, although with Fulham even more entrenched in their own area. Bent had come on for Tankovic at the interval, in a strange move given the striker's lack of ability to hold up the ball and lack of opportunity to use his pace on the counter.
Mata gave a glimpse of the game-winning quality he possessed with a wonderful volleyed pass out to Young that led to Van Persie firing wide, but otherwise it was more of the same from Moyes's outfit. Hopeful cross after hopeful cross was met with desperate Fulham clearances as they continued to cling on.
Moyes rolled the dice with Adnan Januzaj, Javier Hernandez and Antonio Valencia all being introduced and, United finally began to display a little more variety to their game. Meanwhile, Fulham were having to resort to increasingly heroic blocks to keep their opponents out. It was not enough. One such block by William Kvist in the box saved a near-certain goal, but the ball came back to Mata who put a controlled ball across the face of goal where Van Persie was waiting to finish from a couple of yards out.
And it was another lunging block that led to a quick-fire second for the home side. Scott Parker was throwing his body all over the place after coming on, but in trying to deny Carrick's side-footed effort form 20 yards he could only deflect the ball up into the top corner of the net. Moyes's ferocious explosion of relief and euphoria spoke volumes for his emotions.
Having been so focused on not conceding for so long, it was difficult to envisage any possible way in which Fulham could come back from that blow. Yet, it again proved to be unwise to take anything for granted with the Premier League champions this season.
Vidic, after a week in which he announced he was leaving the club at the end of the season, made a poor defensive header to allowed Sidwell to outmuscle Carrick for the ball and set up Richardson in the box. Though De Gea made a fine stop to deny Richardson's effort, the ball bounced up and across goal where Bent was quickest to react and head home. Having supported their team passionately throughout the 90 minutes, the boos at the final whistle were hard to query.
Manchester United 2-2 Fulham (All Goals) 09...by ourmatch
© Copyright IBTimes 2023. All rights reserved.