VIDEO Rafael Nadal Wins French Open Highlights: Nadal Beats David Ferrer In Final At Roland Garros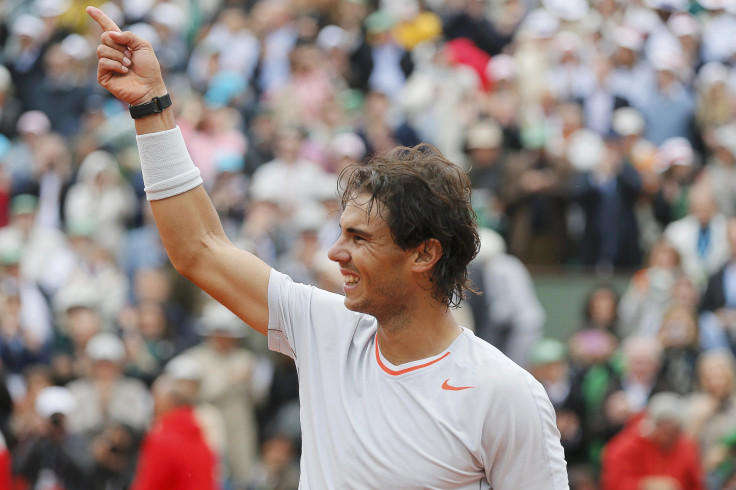 Rafael Nadal became the first player to ever win the same Grand Slam event eight times by defeating Spanish compatriot David Ferrer in straight sets Sunday in the men's final of the French Open.
The 27-year-old won 6-3, 6-2, 6-3 and advanced his all-time record at Roland Garros to 59-1. Nadal has now won eight of the last nine French Opens.
It is the 12th career Grand Slam title for Nadal, and he has won 26 consecutive matches.
Ferrer barely made a dent throughout match, but did force his fellow countrymen to fire a few shots long. There was little play at the net, with Nadal controlling the pace along the baselines with powerful forehand winners.
Showers caused a delay in with Nadal up 2-0 in the third set. Ferrer seemed hesitant to play on, but Nadal wanted to continue.
Before the rain, there was slight pandemonium during the second set with a person in attendance sneaking past security and charging Nadal's side of the court.
With Nadal up 5-1 in the second set, a shirtless fan wearing a mask carried a flare like a torch, but security officials accosted the fan. The flare ignited a towel that started a tiny fire before being extinguished.
Neither Nadal or Ferrer were hurt, but they did appear slightly rattled afterwards. Ferrer showed signs of life after the incident, winning the next game, but later double faulted and Nadal went won 6-2 heading into the final set.
World's fastest man Usain Bolt presented Nadal with the trophy.
The videos below show the highlights.
3 - Hot Shot Nadal - Passing by RafaCollection
5 - Hot Shot Nadal - Gran derecha by RafaCollection
6 - Hot Shot Ferrer - Reves paralelo by RafaCollection
8 - Hot Shot Nadal - Nadal GRAN PASSING by RafaCollection
© Copyright IBTimes 2023. All rights reserved.