Video: Scalia's Body Arrives At Supreme Court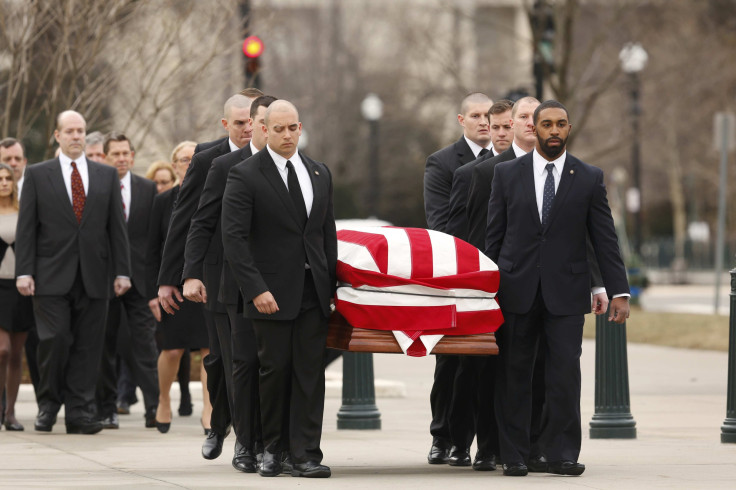 The body of U.S. Supreme Court Justice Antonin Scalia arrived at the U.S. Supreme Court on Friday morning (February 19) to lie in repose, a day before his funeral service.
Scalia's casket was carried up the white marble courthouse's grand staircase by Supreme Court police officers. It was placed on a historic raised bier built in 1865 to support the body of assassinated President Abraham Lincoln.
An entourage of Scalia family members attended the ceremony. Scalia and his widow, Maureen, had nine children and 36 grandchildren.
Paul Scalia, one of the Justice's sons, who is also a Catholic priest, led a short prayer soon after the casket arrived.
The public will be permitted to view the body until 8 p.m. (0100 GMT). The White House said the president and first lady Michelle Obama will pay their respects during the day.
Scalia, appointed to the court by Republican President Ronald Reagan in 1986, died at a Texas hunting resort at age 79.
His death set the stage for a political showdown between the Democratic president and Republicans in the U.S. Senate who are threatening to block any nominee put forward by Obama to fill Scalia's vacancy. The Senate must confirm any nominee. An Obama appointment could tilt the conservative-leaning court to the left for the first time in decades.
© Copyright Thomson Reuters 2023. All rights reserved.