VIDEO US Open Final Highlights: Rafael Nadal Defeats Novak Djokovic To Claim Second Title At Flushing Meadows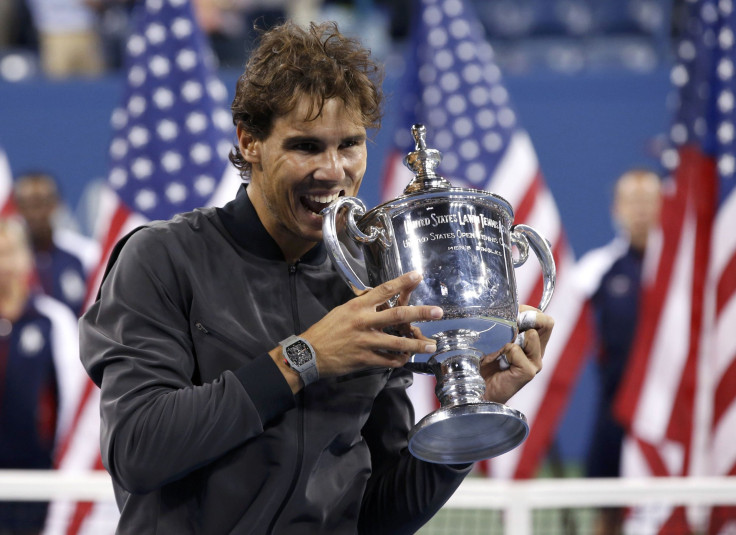 NEW YORK - Rafael Nadal's uncontrollable emotion as he rolled to the ground and, body shaking, wept into the court said everything for what this victory meant. Last year, the Spaniard was forced to watch the U.S. Open from afar as he sat on the sidelines in the midst of a seven-month injury layoff that had many observers questioning whether his troublesome knees would ever allow him to return to his former unrelenting best.
On Monday in New York, Nadal beat the man who has become his greatest rival, Novak Djokovic, in four sets, on a surface that was thought to present the greatest challenge to his knees, to claim his second U.S. Open title and unquestionably, despite what the rankings say, reclaim his place as the best player in the world.
This was an Open-era record 37th meeting between the two greatest warriors in the game. It was also their third in the past four years in the final grand slam of the year, with the previous two being split before the Serbian suffered disappointment 12 months ago to Andy Murray.
Nadal and Djokovic have provided some contests for the ages, not least in their six-hour epic in the 2012 Australian Open climax. This time, Nadal needed a relative paltry three hours and 21 minutes to come out on top, 6-2, 3-6, 6-4, 6-1. The match certainly hit the heights and matched any tennis fan's wildest expectations in two fiercely and spectacularly contested middle sets.
But the match was bookended by the two players reflecting their respective form they showed coming into this climax of two weeks at Flushing Meadows. Nadal, who had dropped serve just once en route to the final, looked a cut above Djokovic, who had needed five sets to dispense of Stanislas Wawrinka in the last four, and he showed it when it really counted in the final.
Nadal has played with more aggression than ever in his incredible undefeated run on hard courts this year and in the first set he displayed more weaponry than a weary-looking Djokovic. Unable to fight off Nadal dominating with his massive topspin forehand, the Serbian also uncharacteristically lacked his usual consistency and committed a rash of errors. When Nadal broke for a second time to take a 5-2 lead before serving out the first set, there were fears among the sellout crowd in Arthur Ashe Stadium that, far from an epic, this could be a whitewash.
Yet, even when not at his best, as Djokovic arguably has not been since a crushing semifinal loss to Nadal in the French Open earlier this year, he rarely, if ever, goes down without a fight. And so it proved once more. Djokovic immediately came out more purposefully in the second set and began to take the initiative to get Nadal scrambling at the back of the court.
At 3-2, Djokovic broke and nobody could claim he didn't earn it after winning the decisive point in a stunning 54-shot rally that had the crowd in raptures. The pair produced a few more of those dramatic exchanges and each time it was Djokovic who struggled to recover. In the next game he was broken back. Still, the momentum had shifted and Djokovic immediately grabbed another break before serving out the set to level up a final that now looked excitingly poised.
The compelling action continued into the third set. Djokovic looked poised to take real command as he broke Nadal for a third straight time in the first game of the set. He remained the more aggressive player throughout, but Nadal struck back to level up the match once more at 3-3. Two games later, came perhaps the defining moment. On his serve, Nadal stumbled back and fell to the court to go to 0-30, but was able to subsequently save three break points. Mere minutes later, the crucial fourth set was going the way of the man from Mallorca.
"It was disappointing that I dropped the third set, even though I felt like especially in first four, five games I was the one who was, you know, dictating the play," Djokovic said afterward. "But it's all my fault, you know. I made some unforced errors in the crucial moments with forehands and dropped the serve twice when I should not have. You know, next thing you know, all of a sudden it's two-sets-to-one for him."
There would be no recovery this time for the man who remains with a solitary U.S. Open title and six Grand Slam wins overall. The fourth set was barely a contest. Djokovic coughed up more errors, while his opponent remained frighteningly consistent. After two breaks of serve a 13th Grand Slam title was heading the way of Nadal. He is now just four behind the record of Roger Federer and the thought of catching the Swiss great, something which seemed most improbable 12 months ago, suddenly looks very much a possibility.
Rafael Nadal vs Novak Djokovic · US Open Final...
by thewolf6
Rafael Nadal vs Novak Djokovic · US Open Final...
by thewolf6
FOLLOW MORE IBT NEWS ON THE BELOW CHANNELS