Vietnamese Man Has 200-Pound Tumor Removed From Leg [PHOTOS & VIDEO]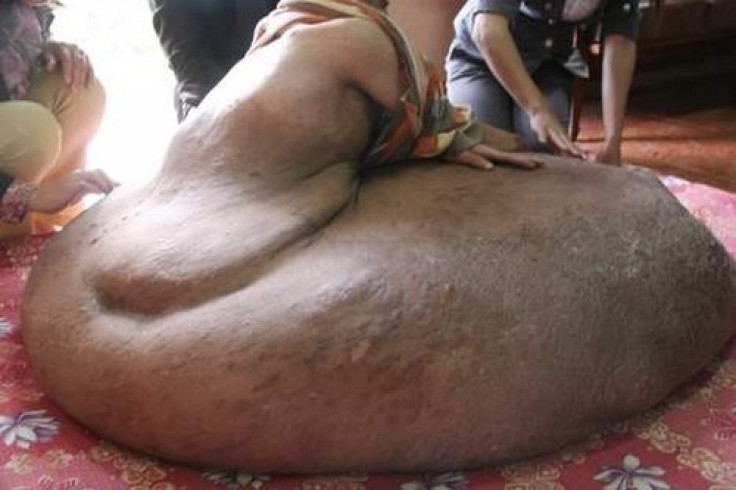 Vietnamese man Nguyen Duy Hai, 31, is in stable condition after a 12-hour operation removed an 198-pound tumor from his right leg.
The surgery, which took place at the France-Vietnam hospital in Ho Chi Min City, Vietnam, was headed by leading U.S. surgeon McKay McKinnon, who lead an eight-person team to remove both the tumor and the nidus (origin) of the growth.
12-Hour Operation a Success
McKinnon, speaking to Vietnamese web site Tuoitrenews, said he began the operation at 8:55 a.m. and closed up at 9:15 p.m.
The surgeon has agreed to waive his medical fee for the operation. The remaining costs (around $12,000) were raised by family and well-wishers in Vietnam and abroad.
Although the tumor was not cancerous, the massive growth put a huge strain on Hai's heart, as well as becoming dangerously intertwined with his blood vessels.
A previous attempt to remove the tumor in 1997 was unsuccessful, and doctors were forced to amputate Hai's leg below the knee.
'I will never forget what he did for me.'
McKinnon, however, had performed surgeries like Hai's before. In 1999, he removed a tumor of similar size from a woman in Michigan who was older and in far worse shape.
Hai, on the other hand, appears to be doing very well after his operation. He will be in intensive care for several weeks, and will have to undergo physiotherapy for months afterward.
But after surviving a 200-pound tumor, Hai is grateful to have come out of the surgery so well, and local news reports that he is eating, breathing and speaking with no difficulties.
I will never forget what he did for me, Hai said of McKinnon. He called him a second father.
'Elephant Man' Condition

How did Nguyen Guy Hai's tumor grow so large in the first place?
According to McKinnon, Hai suffers from a disease called neurofibromatosis, which causes largely non-cancerous tumors to form on nerves throughout the subject's body. It is the same condition made famous in the 1980 film The Elephant Man.
Hai's tumor began to grow when he was just four years old, and is believed to be the largest growth ever recorded in Vietnam.
Over the past few years, it has mushroomed from the back of his spine down his right leg and over to his back and thighs. The tumor began sucking away vital blood and nutrients, putting Hai at great physical risk, and rendered him virtually immobile.
Tumor May Return
Despite Hai's surgery being a success, the healing process still poses some risks. An infection on the large open wound could kill him, and he will have to struggle through multiple skin grafts and reconstruction operations as the years go by.
There is also the chance that the tumor may return. Dr. Jean-Marcel Guillon, chief executive officer at FV Hospital, told CNN that a new growth was unlikely but still possible.
[The tumor] may return, Guillon wrote in an e-mail, but we can operate on him again, and it won't [ever] reach such a size anymore.
The biggest challenge will be for Hai to to relearn (and, in some cases, learn for the first time) how to do all the things his body has forgotten. Hai's cardiac and pulmonary functions should return to healthy levels over the next 10 days.
Video of Surgery
Nyugen Duy Hai's surgery:
Removing the 200lb Tumor:
© Copyright IBTimes 2023. All rights reserved.