'Vikings' Season 2: Is Lagertha TV's Strongest Female Lead? Katheryn Winnick Proves Why Her Character Is No Ordinary Shieldmaiden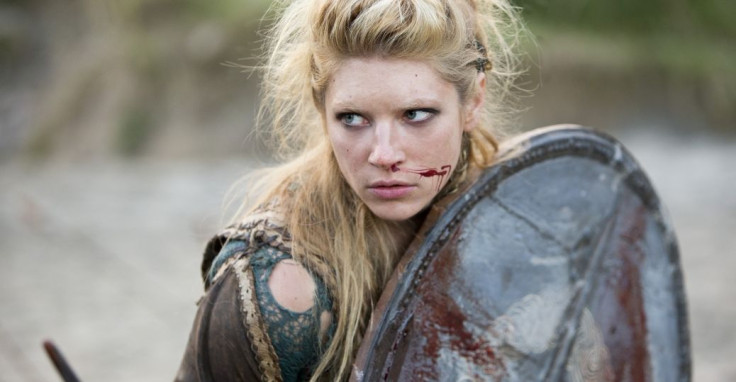 They're tough, they're smart and they look hella good in a pair of pumps. Oh yeah, we're talking about our favorite female TV characters of 2014. The recent season of television has spoiled us silly with the rising number of inspiring female leads who are taking sitcoms and dramas by storm.
From Olivia Pope in "Scandal" to Leslie Knope of "Parks and Recreation," we confidentally give two thumbs up to the way female characters have been portrayed over the past few months. But we have to admit that out of the sea of strong women, we too have a favorite female TV character—and her name is Lagertha of the hit History Channel series, "Vikings."
OK, so maybe Lagertha doesn't sport a sassy pair of heels like Selina Meyer of "Veep" but she absolutely rocks her femininity as she slays opposing warriors on the battlefield. Oh, didn't we mention? Lagertha is a shield maiden and current Earl of Hedeby, which is pretty rare for a female Viking. Hello, glass ceiling!
"The wonderful thing about Lagertha, for me, is that I never anticipated how big that role would become. I have to be honest about that. [The historical figure] was Ragnar's wife, and she was a shield maiden, she had kids and everything," "Vikings" creator Michael Hirst told TV Line of the show's female lead. "And when we were casting, we had lots of possibilities, lots of beautiful young actresses, and I said, 'We have to have someone who's tough and looks convincing.'"
Out of all the talented women who tried out for the coveted role, it was Katheryn Winnick who caught the eye of Hirst with her resilient personality—and butt-kicking skills.
"Katheryn came on board pretty late in the day and she said to me, 'You know, I'm a black belt,' and that was fantastic and sexy, so I cast her. And then she started to define the role and now she's as famous as Ragnar," he explained.
My first love.. Tae Kwon Do #Vikings #MartialArts pic.twitter.com/kB39lAvt8X
It's true! Although Ragnar Lothbrok has a blinding reputation even he stands in Lagertha's shadow every now and then. In episode 7 of "Vikings," Lagertha revealed to her ex-husband that she had become the Earl of Hedeby and hoped of becoming an alley to Kattegat.
"Yes, we are equal," Lagertha said after exposing her new status. "I'm sure this is difficult for you." This is perhaps one of our favorite lines of the series. Men have been dominating the show with their brute and blunt behavior. But now, it seems that the ladies are finally starting to get their hands dirty with Lagertha leading the way.
"The thing about Season 2 is [Lagertha] became, as you know, involved in an abusive relationship, and Katheryn said, 'I don't want to do this. I don't want to, because I've established a reputation out there as a tough woman and warrior and everything,'" Hirst explained. "And I said, 'Look, if you think you've got a big female following now, wait until they see how you deal with being bullied!'"
In episode 6 we watched Lagertha "deal with her bully" as she stabbed her husband, Sigvard, in the eye after he attempted to sexually harass her in front of guests. That's one way to use a dinner knife. With her face still bruised, from her husband's cowardly attack the night before, Lagertha was able to put on strong face that proves she's a force to be reckon with. And she totally is.
We can't wait to see how Lagertha's story unfolds in the episodes to come. Make sure to tune into "Vikings" Thursday, April 17 to see "Boneless" and watch the Earl of Hedeby dominate the battlefield.
© Copyright IBTimes 2023. All rights reserved.