'Vikings' Season 2 Spoilers: What Does Lagertha's New Shield Represent? Katheryn Winnik Explains Meaning Behind Unusual Armor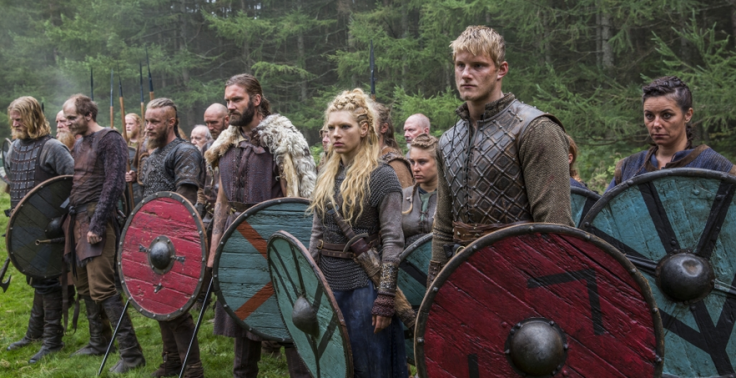 There's no doubt that Katheryn Winnick's character on "Vikings" is definitely our favorite. Lagertha is a fierce warrior, a loyal mother and one of the most stylish shield maidens we've ever seen. Not only can Ragnar Lothbrok's ex-wife rock a mean braid but she also knows how to fight in flair. Yep, we're talking about Lagertha's new and improved shield.
Lagertha's armor made its stunning debut in episode 5 of Season 2 when the shield maiden fought alongside her former lover in efforts to reclaim Kattegat from Jarl Borg. Although the episode was supposed to shine a light on Ragnar and Bjorn's first time fighting alongside one another as father and son, it was Lagertha's hypotonic new shield that grasped out attention. Sorry, boys!
Lagertha's personal armor was painted a pleasing turquoise color and decorated with a symbol resembling that of a tree.
"Do you know what #Lagertha new shield represents?" Winnick asked her thousands of Twitter followers. "Hint.. 1. Loosely based on a Rune from the…"
Runes are letters in a set of related alphabets known as runic alphabets, which were used to writer various Germanic languages before the Latin alphabet in the Viking Age. The particular rune on Lagertha's shield looks like the rune FE, which stands for wealth.
"Hint #2.. Symbol looks like a t--e. What does that stand for?" Winnick teased.
After several guesses from fans, Winnick finally revealed the meaning behind her new armor.
"Pop quiz answer: #Lagertha shield resembles a TREE & Rune FE – meaning 'Wealth' = Strength, Growth, Family (Tree),"she said.
The blond haired beauty went more in depth on her Instagram page, capturing a photo of explanatory text regarding her character's armor.
"The design for this shield/flag is loosely based on a rune from the Scandinavian alphabet meaning 'Wealth.' Runes are very important in Viking history as they are some of the few well preserved reminded we have of their lives.
It was also inspired by the branches of tree, signifying strength, growth and family. Lagertha as a character has grown so much and we wanted to give her a strong symbol for her return as Earl.
The colour we feel is both strong a feminine as the same time, having seen it one screen we feel it was the perfect choice
As a single unit it's a strong symbol but when you see it en mass (her shield maidens, her ships, her troops) it gives a real sense of her power and gives us a hint and her feisty spirit."
What do you think of Lagertha's new shield? Take the poll below and let us hear your opinion!
© Copyright IBTimes 2023. All rights reserved.