Violent 'Straight Outta Compton' Screenings? LAPD Gang Unit Sent To Premiere Ahead of Nationwide Debut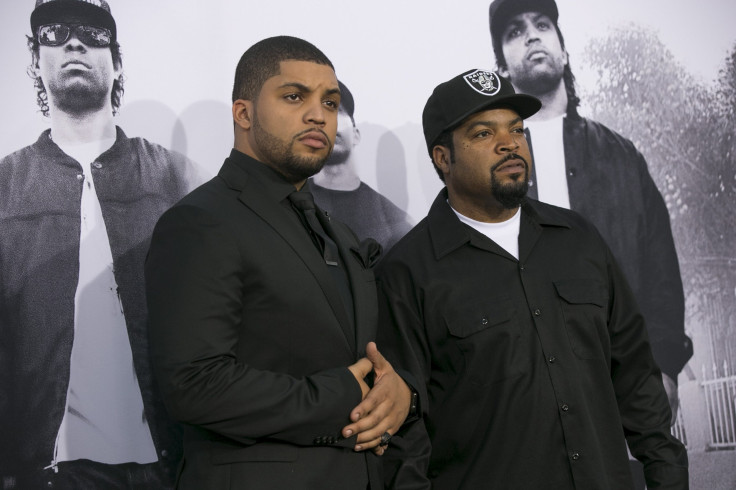 Los Angeles police said they sent several gang enforcement officers to Monday's screening of "Straight Outta Compton," the biopic about late 1980s rap group NWA – because debut screenings of films about black urban life don't always go off without a hitch. But the evening screening held at L.A. Live did not end in violence, Mike Lopez of the LAPD's central bureau told the Los Angeles Times.
Along with the gang unit, special events officers and private security personnel were assigned to cover the event, which brought out A-list celebrities and pioneers of the gangsta rap genre that had been criticized for glamorizing L.A. street violence and anti-police rhetoric.
For at least the last few years, taking in a movie at U.S. theaters hasn't been the safest way to spend an evening. Deadly violence has erupted at theaters in a few states, including the 2012 massacre by James Holmes, who killed 12 people and wounded 70 others in Aurora, Colorado. Moreover, several urban-themed movies featuring predominantly African-American casts were marred by violence in the 1990s.
That raises the question: Are police wrong for beefing up security when these movies premiere? A streak of shootings and other violence at two dozen U.S. screenings in 1991 drew national headlines to "Boyz N the Hood," a movie depicting the lives of young African-Americans in South Central Los Angeles, the Times reported. The violence, which left at least a dozen people wounded in California theaters and killed one man in Chicago, prompted several theaters to pull the film.
The following year, a 16-year-old girl from the suburbs of Chicago was killed in gang crossfire outside of a theater showing the 1992 anti-violence inner-city drama "Juice," starring the late West Coast rapper Tupac Shakur, the Chicago Tribune reported.
Police also blamed gang rivalries for gunfire that erupted inside a Los Angeles area screening of the 1996 crime spree movie "Set it Off," starring conscious hip-hop artist Queen Latifah. Three people were wounded at that screening that brought out 600 people, according to a Times report.
Fatalities from Mass Shootings in the United States | FindTheBest
© Copyright IBTimes 2023. All rights reserved.