Virgil Abloh Net Worth: How The Off White, Louis Vuitton Head Built His Empire
KEY POINTS
Virgil Abloh founded Off-White in 2013
He directed Kanye West and Jay Z's music video "Watch The Throne"
Abloh is Louis Vuitton's artistic director for its menswear collection
Virgil Abloh's net worth is estimated at $4 million. Here is how he built his fashion empire.
Abloh has proven to be one of the most innovative persons in the fashion industry. His background in architecture may have contributed heavily in his creations.
Abloh's close ties with Kanye West started way back. The two would often collaborate and the former would even become the appointed creative director of the latter's creative agency, DONDA. West and Abloh interned at Fendi in Rome, Italy and it started their interest in the world of fashion, especially streetwear.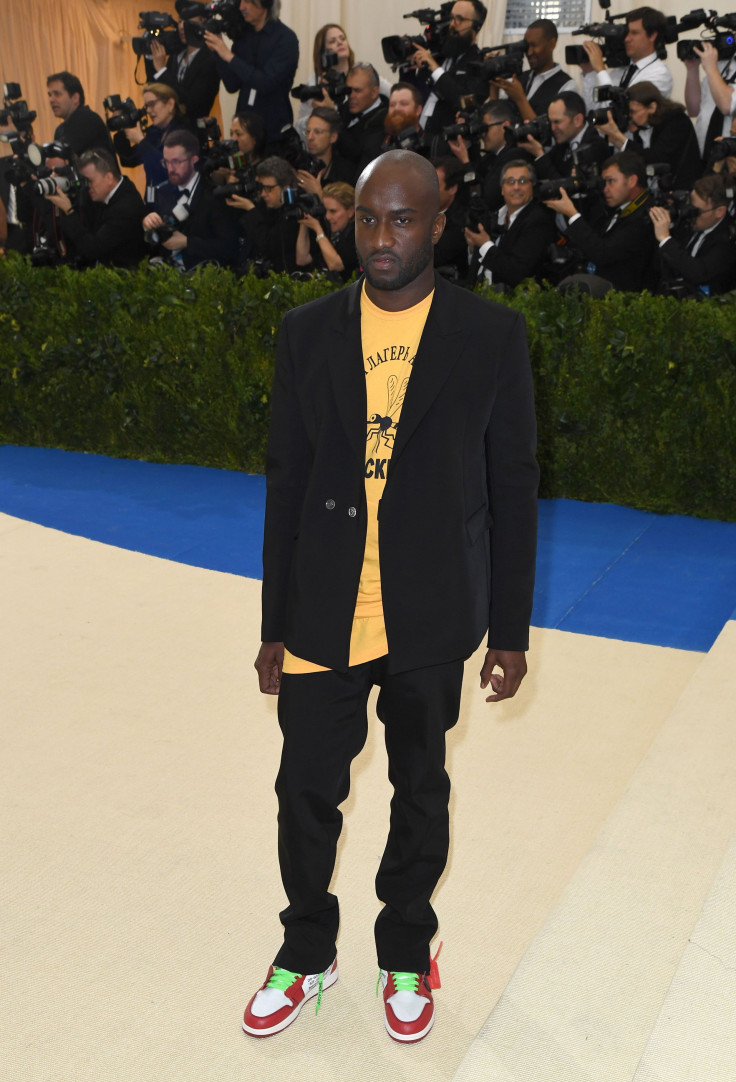 The 39-year-old artist earned a Grammy nomination after helming the music video of West and Jay-Z's "Watch the Throne." His vision and talent could not be denied and by 2012, he launched Pyrex Vision that sold for $550 each. A year later, Off-White was born. Even though the luxury brand has been in existence since 2013, it was only until two years later that it gained global recognition.
In 2015, Beyonce and Nicki Minaj were seen wearing Off-White womenswear collections. In 2017, Nike collaborated with Off-White and the collection propelled Abloh into worldwide fame. Some even claimed that the Off-White collection could threaten West's Yeezy collection and the Air Jordan brand, per Laced.
What made Off-White such a hit is that it brought luxury goods closer to the youth. Streetwear suddenly became high-fashion. The accessibility to any age group can be credited to Abloh, according to Vox. "I like the challenge of translating a brand that could be 100 years old to someone who's 12. I specialize in that," he added in an interview.
Critics are saying Off-White collections are priced out of this world, especially in the streetwear category. A windbreaker carries a price tag of $1,145 while a sweatshirt is sold at at least $500. Off-White carries a unique trademark of quotes featured in its products. A "shoelaces" Off-White quote on sneakers could fetch upwards of $700 each pair.
After his work with Nike, Abloh became a hot commodity with numerous brands waiting to collaborate with him. So far, he has worked with Ikea, Evian, Champion, Le Bon Marché, Gore Tex, Vivendii, Rimowa, Kith, Equinox and A-Cold-Wall, among others. His prolific work catapulted him to become the artistic director of Louis Vuitton's menswear collections since 2018.
Abloh's rise to fame did not happen without some controversy. In 2019, the rapper allegedly claimed that he deserved to be the artistic director of Louis Vuitton than his friend Abloh. The founder of Off-White's logo was also called out because the brand's logo appeared to have some similarities with a 1965 Glasgow airport design. Abloh denied the accusations and said his inspirations are rooted in simplicity and efficiency.
© Copyright IBTimes 2023. All rights reserved.