Virginia Governor Announces Plans To Remove Confederate Statue In Wake Of George Floyd Protests
KEY POINTS
Virginia Gov. Ralph Northam is expected to announce plans for the removal of a statue of Confederate Gen. Robert E. Lee on Richmond's Monument Avenue
Richmond Mayor Levar Stoney said he will order the removal of the other Confederate statues on Monument Avenue in July after a new law goes into effect giving him the authority to do so
Other Confederate and controversial monuments have been taken down in Alabama, Pennsylvania and Tennessee in the wake of protests demanding racial justice
Updated: 12:40 p.m. EDT
Virginia Gov. Ralph Northam said Thursday the statue of Confederate General Robert E. Lee on Richmond's Monument Avenue will be taken down "as soon as possible."
"When it's the biggest thing around, it sends a clear message. This is what we value the most. That's just not true anymore," Northam told a press conference Thursday. "In Virginia, we no longer preach a false version of history, one that claims the Civil War was about state's rights."
"No one believes that any longer."
His decision follows nearly a week of protests demanding justice and police reform in the wake of George Floyd's death in Minneapolis. Northam was also facing mounting pressure within the Virginia Legislature to have the statue removed.
"That is a symbol for so many people, black and otherwise, of a time gone by of hate and oppression and being made to feel less than," Jay Jones, a Virginia House delegate, told reporters.
Originally built in 1890, the statue is one of five Confederate statues on Monument Avenue and was the first one built in the wake of the Civil War. It was followed by statues of Confederate President Jefferson Davis in 1907 and Confederate officers James Ewell Brown "JEB" Stuart in 1907, Thomas "Stonewall" Jackson in 1919 and Matthew Fontaine Maury in 1929.
The statues have been a point of contention in Richmond for years, with opponents arguing they represent the history of bigotry and racism that has permeated the South since the end of the Civil War. On the other side, supporters have argued the statues reflect their state's heritage and the sacrifices of ancestors who fought for the Confederacy during the Civil War.
However, Richmond Mayor Levar Stoney said Wednesday he would begin working to remove the other four Confederate statues on Monument Avenue. Stoney plans to order their removal on July 1, when a new law goes into affect allowing local officials to decide the fate of Confederate statues and memorials not on state grounds.
"I appreciate the recommendations of the Monument Avenue Commission – those were the appropriate recommendations at the time," Stoney said in a statement. "But times have changed, and removing these statues will allow the healing process to begin for so many black Richmonders and Virginians. Richmond is no longer the capital of the Confederacy – it is filled with diversity and love for all – and we need to demonstrate that."
Other Confederate memorials have been taken down in recent years after tragedies and deaths similar to George Floyd's. The most notable were the removal of statues in South Carolina after a white supremacist killed nine people at a church in Charleston and following the chaotic alt-right march in Charlottesville, Virginia, that left a counter-protester dead.
Protesters across the U.S. have taken it upon themselves, in some cases, to tear down similar memorials. In Montgomery, Alabama, four people were charged with criminal mischief after taking down a Robert E. Lee statue outside Lee High School. A statue of Edward Carnack, a controversial senator who attacked civil rights advocates, was ripped up by protesters on Sunday in Nashville, Tennessee.
Other statues state and local officials have ordered removed amid the protests, with officials in Philadelphia and Alexandria, Virginia, sharing images on Twitter of controversial memorials being removed.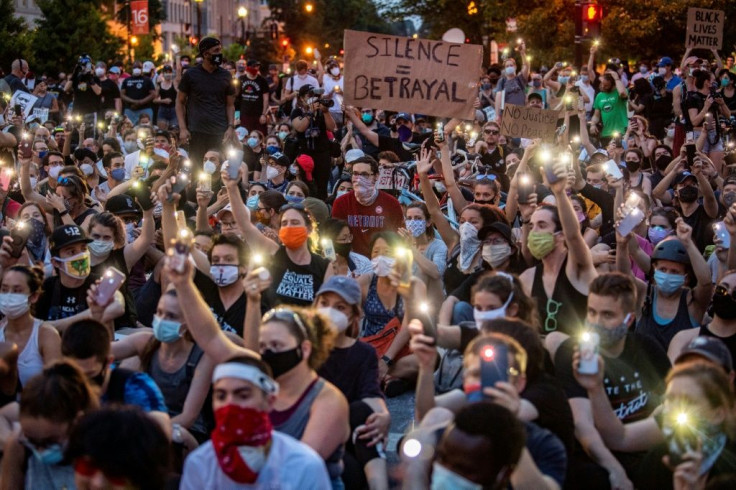 © Copyright IBTimes 2023. All rights reserved.