Virginia Wine Tourism to Boom in 2012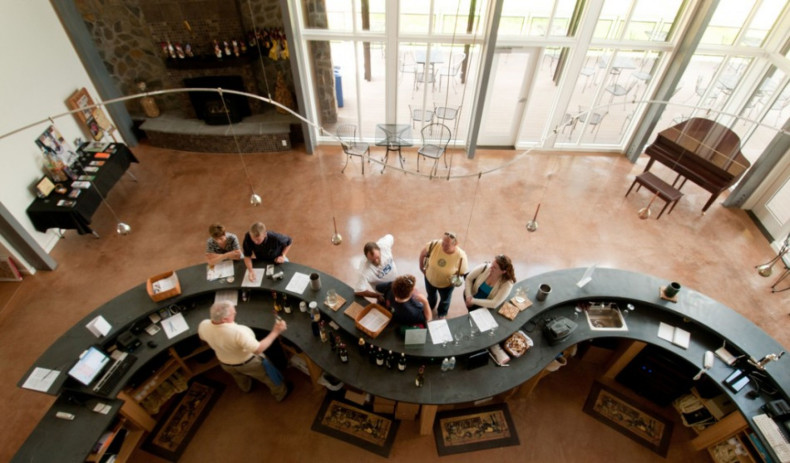 Virginia is the Old Dominion and the Mother of Presidents, - a state known for its historic battlefields, rolling hills, and politically-minded Washington commuters. But in the last two decades, the state has grown a reputation for something altogether different: fine wine.
Wine Enthusiast just named Virginia one of the top 10 wine travel destinations for 2012, adding to a growing list of awards and accolades.
This designation will undoubtedly lead to more tourism for our wineries and more sales of our wine, Virginia's Secretary of Agriculture Todd Haymore told the International Business Times.
The magazine cited Virginia's rich history, natural beauty, and outstanding wine makers as key factors in their selection. Other destinations on the list include venerables such as Italy, Spain, France, New Zealand, California, and France.
In 2012, we expect a very busy year for Virginia wines, Haymore said. Wineries Unlimited, the largest, most powerful trade show and conference for the eastern wine industry, will return to Richmond in March. More importantly, Wineries Unlimited is looking to make Virginia its home for the foreseeable future.
For 2012, the state has also revamped and enhanced its Governor's Cup competition and will hold the inaugural Virginia Wine Summit in Richmond to focus on further promoting Virginia in the global marketplace as the preeminent East Coast destination for wine and winery tourism.
Virginia is the 5th largest wine producing state in the U.S. behind the West Coast giants and New York.
American wine production actually started in 17th century Virginia, so it seems only fitting that it would reemerge with a vengeance some 400 years later.
Virginia's Wine History
Winemaking in Virginia is said to date back to the early 1600's in Jamestown Colony where the first Assembly actually passed Act 12, requiring all settlers to plant 10 vines from which to make wine. It was thought at the time that the New World would be ideal for vineyard cultivation - and offer a way of reducing Britain's viticultural dependency on arch-rival France.
But the European vines didn't thrive as expected, in part due to a pesky root louse called phylloxera that attacked foreign vines. After American vines were introduced to the region, these microscopic sap-suckers ravaged a majority of European vineyards during the Phylloxera Plague of the 1850s. Some estimates hold that between two-thirds and nine-tenths of all European vineyards were destroyed.
To remedy the problem, European roots were grafted onto the roots of a resistant American native, Norton, first cultivated in Richmond, Virginia.
Now, Norton plays a major part in Virginia's wine production, sharing the stage with more familiar European varietals like Chardonnay and Cabernet Sauvignon.
The Grapes
In terms of production, Chardonnay is the most widely produced grape in the state, followed by Cabernet Franc, Merlot, Cabernet Sauvignon, and Vidal. Chambourcin, Viognier, and Traminette are also major players.
According to the Director of the Virginia Wine Board, Annette Ringwood Boyd, the only problem facing Virginia wines is that sales -- up 11% in 2011 -- are outpacing growth.
We really need to be planting some more grapes, Boyd told the International Business Times.
And plant they are. The 2011 Virginia Wine Guide featured 34 new wineries for a total of 193. Twenty additional make for a grand total of 213 wineries on the 2012 map.
To put that in perspective, Virginia had just 64 wineries in 2000.
Eat Local, Drink Local
There's a movement afoot in Virginia: Eat local, drink local.
We've just touched the surface on that as the trend really takes root in the state, Boyd said.
Foods and wines from the region should go together, she added. If you're having oysters from the Eastern Shore, the absolute best wine is the stainless steel Chardonnay from Chatham Vineyards. Chatham gets a breeze off the ocean so you taste a hint of that salinity that goes nicely with the oysters.
Though some like Chatham are located elsewhere, the majority of Virginia's wineries fall along the eastern slope of the Blue Ridge Mountains.
Loudon County is just exploding, Boyd said, and there's been a ton of growth around Charlottesville too.
It's not too high and not too low, she added. The grapes like this midlevel elevation - it's our sweet spot. Grapes don't like too much moisture so a little bit of elevation creates good drainage. The breezes off the mountain also help prevent mold, mildew, and pests.
The Wine Buzz
The Virginia wine buzz grew in 2011 after two prominent figures snatched up vineyards in the state.
Steve Case, the co-founder and former chief executive officer of American Online (AOL), purchased Sweely Estate in Madison with his wife Jean over the summer.
This transaction was remarkably low-key given the spectacularly public bankruptcy of Kluge Estate, south of Charlottesville, which played out in the media earlier in the year until Donald Trump grabbed the property at a foreclosure auction in April for $6.2 million.
In October, Trump officially rebranded the winery as Trump Vineyard Estates and declared: This will be one of the greatest wineries anywhere in the world. Meanwhile, the Cases also envision themselves as figures that can promote Virginia wines outside of the state and build much needed exposure (though some worry these public figures make Virginia winemaking seem like a pastime for dilettantes).
The Virginia Wine scene has its share of famous advocates. Dave Matthews has cultivated grapes near his Charlottesville home since 1999 and was dubbed the wine world's No. 1 rock star by Food & Wine Magazine. Matthews opened up Blenheim Vineyards in 2000 long before Virginia put its stamp on the wine map.
Virginia's Oenophile Governor
While these figures bring a tremendous amount of international and national visibility, the state's biggest cheerleader is Governor Bob McDonnell who, along with his wife Maureen, planted 10 vines at the Executive Mansion last year. McDonnell and the secretary of agriculture carry Virginia wine on every trade mission, to every meeting, and show it off not only across the States, but around the world.
Governor Bob McDonnell decided as a candidate in 2009 to make the promotion of Virginia wines and winery tourism one of the top agricultural and tourism priorities of his administration,Haymore said. He believed that raising the profile of Virginia wines and winery tourism should be key components of his economic development and job creation initiatives.
In 2010, tourism generated $19 billion in revenue, supported over 204,000 jobs, and provided $1.3 billion in state and local taxes, according to Haymore. He estimates that over a million people include a visit to a Virginia winery while visiting the state.
As Virginia emerges on the global wine map, 2012's number are expected to be even greater.
It took over 400 years, but Virginia is finally producing the grapes America's first European settlers' hoped for.
Where to Stay:
Virginia's wineries are nestled along an über-American landscape of rolling hills, picket fences, and white shingled houses. Rich in history, and even richer in scenery, the preeminent wine regions of the northwest and central part of the state are worth a visit for the views alone.
Inn at Little Washington - Washington, VA
One of the most praised establishments in the nation, this romantic hideaway was the first inn ever to receive AAA's highest accolade, the 5 Diamond Award, for both food and accommodation. Located in Washington, Virginia -- a town little-changed since George Washington first surveyed it and named its streets in 1749 -- the Inn at Little Washington lies within reach of nearly two dozen top notch Virginia wineries.
The Ashby Inn - Paris, VA
This charming ten-room inn sits on three acres of landscaped grounds with views of Paris Mountain, Ashby Gap, and Sky Meadows State Park. Built circa 1829, The Ashby Inn boasts one of the best restaurants in Northern Virginia and lies in the heart of Northern Virginia's wine country.